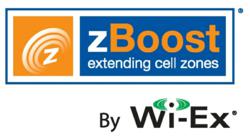 65 percent of online cell phone/smartphone owners experience problems with their cell phone or smartphone service including dropped calls or data, poor reception or dead zones in their home or poor signal reception or dead zones at work
San Francisco, CA (PRWEB) January 26, 2012
Wi-Ex (http://www.wi-ex.com), the leading provider of consumer and commercial cell phone booster, announced today show specials for its industry leading zBoost line of cell phone signal boosters for Macworld/iWorld attendees. Showcased in booth #347, the zBoost line allows consumers to take full advantage of data, voice and Internet services on their iPhones(TM), iPads(TM), connected devices and smartphones.
According to the zBoost State of the Signal Survey, commissioned by Wi-Ex and conducted online by Harris Interactive, 65 percent of online cell phone/smartphone owners experience problems with their cell phone or smartphone service including dropped calls or data, poor reception or dead zones in their home or poor signal reception or dead zones at work. The survey also found that 71 percent consider their cell phone/smartphone their essential voice and/or data connection tool.
Wi-Ex is offering an exclusive Macworld Show Special on the zBoost units. Available only to attendees during the Expo hours, the following units of consumer zBoost products will be specially priced
zBoost Bundle Special: zBoost SOHO and zBoost zForce increases data speeds and end dropped calls at home and on the go. The zBoost SOHO increases indoor signal coverage up to 3,000 square feet for multiple users simultaneously. The zBoost zForce eliminates most dead zones on the go by extending in-vehicle coverage for a single user.

Combined MSRP: $549
zBoost Macworld/iWorld Special: $249.99
$300 savings
zBoost Metro is perfect for single story settings since there is no need for vertical separation. The zBoost Metro increases indoor signal up to 1500 square feet.

MSRP: $299.99
zBoost Macworld/iWorld Show Special: $129.99
zBoost SOHO extends Cell Zones™ up to 3000 square feet and supports multiple users and carriers (excluding Nextel) simultaneously.

MSRP: $399.99
zBoost Macworld/iWorld Show Special: $179.99
zBoost zForce extends cell phone signal up to 10 times the average strength, allowing miles of uninterrupted voice and data transmission. The zBoost® Car Unit eliminates dead zones and extends battery life for long drives.

MSRP: $149.99
zBoost Macworld/iWorld Show Special: $99.99
About Wi-Ex
Wi-Ex (http://www.wi-ex.com), a leading provider of cell phone signal boosters, developed zBoost, the first consumer-priced signal booster that "extended cell zones" for the small office/home office cell phone market. Wi-Ex has expanded their "extending cell zone coverage" beyond consumers to corporate enterprises and large commercial applications. From M2M applications to large commercial complexes to the rising number of teleworkers, the zBoost line provides a business-centric solution for improving poor in-door cell phone coverage domestically and internationally. The zBoost product line works with most carriers in the US and abroad including AT&T, Sprint, Vodaphone, Verizon and T-Mobile. The award-winning zBoost home and office solutions help today's connected consumers including iPhone, iPad, Android (DROID), BlackBerry, and smartphone users with dropped calls and slow data. They were awarded a 2007 and 2010 Consumer Electronics Association Innovations Honoree by the Consumer Electronics Association (CEA) and a 2011 EXC!TE honoree. They also were selected as a finalist for the 2007 and 2009 CTIA Emerging Technologies (E-Tech) Award. As the leader, zBoost has more awards, more sales and more locations than all their competitors combined. Wi-Ex continues to develop innovative products to meet the demands of an increasingly wireless society by enhancing wireless signals.
###