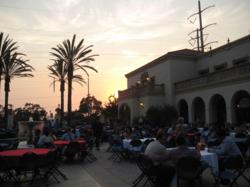 "We do the work and planning, they get to enjoy the experience."
Madison, WI (PRWEB) January 26, 2012
Senior Summer School, an innovative nation-wide program for active, engaged mature adults interested in lifelong learning, provides all-inclusive vacation options that are an eclectic mix of social, educational and cultural programming. Tina Fouts, Program Director, thinks of it as a summer camp for intelligent adults. "We pick a city, generally near or on a college campus, with lots of interesting and fun things to do. Then we plan an itinerary that gives a good taste of what makes that place so special and we offer a mix of classes, events, trips and tours. It's a great opportunity for seniors to travel and, to some extent, revisit 'campus life.'"
Once participants get to the city, accommodations, most meals, sightseeing, lectures, and other details are covered. "We always have repeat customers," says Fouts, "who tell us they love the relaxed environment that keeps them busy without all the worry. There's some learning, some socializing, some touring and exploring. We do the work and planning, they get to enjoy the experience."
In San Diego, Senior Summer School participants will explore all that this engaging, active community has to offer, from its magnificent natural resources – the glorious natural landscape includes mountains, beaches, mesas, canyons and even the San Diego River that flows through the city – to its Spanish and Mexican heritage, and the wealth of cultural and artistic expressions modern San Diego presents.
Participants will tour the city, with stops in Coronado Island and La Jolla, and tour the University of San Diego. They'll spend a day at the spectacular Balboa Park, experience a famous Spreckel's Organ concert and visit historic Old Town. Through classes and field trips, they'll discover San Diego's long history and cultural influences. Clients can also opt-in to other activities, such as a harbor cruise, visit to the theater, Seaport Village, the USS Midway Museum and the Seabreeze Organic Farm.
The group will stay at the lovely San Buenaventura Apartments on the stunning campus of The University of San Diego, a private institution designed completely in a Spanish Revival style and consistently rated among the Top Ten Most Beautiful Campuses in the country by The Princeton Review. The apartments have top notch dining facilities, and the building overlooks Mission Bay.
For more about Senior Summer School, this program or others (which include Providence, RI; Eugene, OR; Albuquerque, NM; and Madison, WI for 2012) please contact Program Director Tina Fouts at info(at)seniorsummerschool(dot)com or 800-847-2466, or visit seniorsummerschool.com.
###