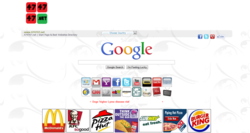 The best websites in one website, choosing your homepage has never been easier.
(PRWEB) January 30, 2012
Choosing which website to set as a homepage can be a tough decision especially when internet users have a lot of great websites that they visit often. The newly launched FortySevens solves this problem by gathering the internet's most visited and useful websites and placing them in one page. FortySevens is a start page and a directory of the best websites.
A start page is a web page containing useful links or information which appears when a web browser starts. Start pages may include news, weather, games, and other web gadgets. Forty Sevens is the perfect example; it is a start page that is tailored to meet the needs of the majority of internet users worldwide by grouping websites of similar content together in a specific category, each website is represented by its logo and an external link to that website. Now it's easier than ever to find useful and helpful website that are ranked high on the web in one website at one click, check their email, news, and friend updates from one place. Most people use a search engine, or a news website as their homepage, and now they can have the best of both by having a home page that features a group of top news websites that users can choose from.
474747.net categorizes websites in 40 categories such as sports, tech, business, travel and many more. In every category users will find a variety of websites they can choose from. For example, if a user scrolls down to the travel category they will be able to check out several travel websites until they find the one that meets their needs. The website is free to use and no registration is required. To find out more visit:
FortySevens Official Website: http://www.474747.net
###