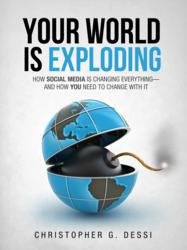 I can't recommend it strongly enough. Hell, I triple recommend it. —Jeff Pearlman, NY Times Best-selling author
New York, NY (PRWEB) January 25, 2012
In the book Dessi shares his manifesto that the recent explosion of social media is a spiritual awakening, not a technological one. He offers techniques for mastering engagement in social media for your career, your business, and your life. Part memoir, part brass tactics, & part motivational doctrine, Dessi delivers a punchy treatise on social media, offering entertainment & inspiration throughout. His lessons on social media will enable the reader to discover their true calling, take control of their career, and harness the digital forces that shape our world today.
Inspired to write the book after lecturing to students at Marist College he urges college students to "Start now. Don't wait for graduation day to get excited about finding a job. Begin blogging, Tweeting and generating content that interests you. " Dessi believes that social media allows for deeper human and interpersonal connections via technology, and encourages brands to adopt this mentality in their social media marketing efforts. Urging business leaders to "Listen, engage and allow for the conversation to happen around your brand."
The book is available through Amazon.com.
About the author:
Christopher Dessi is Managing Partner at Drive Action Digital, a digital marketing agency, and Co-Founder Chief Marketing Officer at The Athletes Network, a social network designed to connect the 7.6 million high school athletes with college coaches. Dessi is a regular contributor on Fox News. He is often called upon to lecture to businesses, academic institutions and government entities on the subject of social media. He holds a M.S. in Direct Marketing from New York University (NYU) and a B.A. in Psychology from Loyola University in Maryland. He studied abroad during his junior year in Leuven, Belgium at Katholieke Universiteit's Erasmus Program. He lives in Chappaqua, NY with his wife Laura and daughters Talia & Olivia. For more information about Chris visit his blog or the Drive Action Digital site.
###