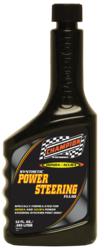 Champion Brands unveils a new Honda Power Steering Fluid
(PRWEB) January 26, 2012
Champion Brands Honda Power Steering Fluid is a full synthetic power steering fluid formulated with advanced chemistry. This powerful fluid was developed
to meet the specific performance demands that Honda and Acura power steering systems require. With a higher viscosity than conventional power steering fluids,
Champion Brands Honda Power Steering Fluid provides a greater degree of protection for power steering systems.
Champion Brands Honda Power Steering Fluid exhibits exceptional anti-wear properties that help protect critical components of power steering systems. This new fluid has low volatility and anti-foam agents to prevent pump cavitation - a destructive process that occurs when vapor bubbles form and collapse in low pressure environments. Honda Power Steering Fluid also has anti-oxidant properties that combat the onslaught of sludge build-up, and has been proven to provide excellent protection and performance in cold weather situations.
Suitable for use in Honda/Acura P/N 08206-9002A, Honda PSF-2, Honda PSF Type S, and Honda PSF Type V power steering systems.
Champion Brands is excited and proud to bring this "Purpose-Built" power steering fluid to the specialty lubricant market. Data Sheet and MSDS available here: http://www.championbrands.com/prod-achem.htm
About the company: Champion Brands, LLC, is a globally recognized industry leader in specialty lubricants for over 55 years. Champion Brands, LLC also produces and blends over 300 products including fuel, oil, engine additives, and lubricants for the automotive, heavy truck, agricultural, industrial, and specialty markets. For more information contact your nearest Champion Distributor, or call Champion at 800-821-5693. Champion Brands, LLC; 1001 Golden Drive, Clinton, MO, 64735 or go to ChampionsUseChampion.com
###