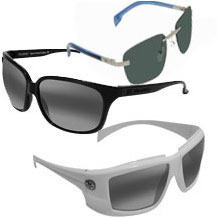 The new line of sunglasses includes proprietary lenses optimized for outdoor activity and many are designed by Alain Mikli.
Austin, TX (PRWEB) January 27, 2012
Online eyewear retailer FramesDirect.com will be the exclusive U.S. seller of a new line of sport and fashion sunglasses by the iconic sunglass brand Vuarnet.
Roger Pouilloux and Joseph Hatchiguian launched what would become Vuarnet in the 1960s. The Vuarnet brand quickly gained popularity when its proprietary lens and distinctive frame design was worn by members of the French Olympic ski team, including gold medalist Jean Vuarnet, for whom the brand was eventually named. Vuarnet was an official sponsor of the 1984 Los Angeles Olympics where it gained truly international recognition.
In 2009, a controlling 75% stake in the company was purchased by trendsetting eyewear designer Alain Mikli, who revitalized the brand by introducing bold new frames that embraced not only ski, nautical and outdoor sports enthusiasts, but fashion and urban lifestyle as well.
The new designs gained quick popularity in Europe and have since spurred interest among U.S. consumers, many of whom wore Vuarnet sunglasses in the 70s and 80s and are eager to experience the new offerings of the beloved brand.
In response to an upswell in traffic to Vuarnet's website over the past few months and floods of emails from eager U.S. consumers wanting to know where they can purchase new Vuarnet designs, Vuarnet is launching the redesigned line of sunglasses in the U.S. market.
"Every day I get tons of email from U.S. based consumers asking me where they can purchase Vuarnet frames," Craig Dolloff, Vuarnet National Sales Director says. "Many folks are driven by nostalgia, they used to where Vuarnet in the 80s and 90s, but many are completely new to the brand."
The new line of sunglasses includes proprietary lenses optimized for outdoor activity and many are designed by Alain Mikli.
Initially, the new line will be sold exclusively online by FramesDirect.com, the world's leading online eyewear retailer.
"We're very excited to be working with Vuarnet on this new launch," says Clotilde Bedoya, FramesDirect.com Marketing & Product Manager. "They are an iconic brand with an exciting heritage built on quality and performance."
About FramesDirect.com: Founded by Drs Guy Hodgson and Dhavid Cooper, FramesDirect.com is an Austin, Texas-based eyewear company that operates on the following core principles: 1) Excellent customer service, 2) Use only the highest quality lenses, 3) Provide the best selection of authentic name brand eyewear, 4) Sell eyewear at a fair price without sacrificing quality.
These principals have made FD one of the most successful online eyewear companies in the world with over a million customers since 1996.
The family of optical websites includes FramesDirect.com, FramesDirect.co.uk and The Eye Zone, the company's official blog.
###