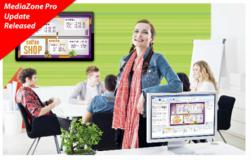 We are delivering on our promise to customers to give them greater control, flexibility and convenience with this release. Nick Nichols, President
Lenexa, KS (PRWEB) January 31, 2012
Keywest Technology has announced the release of MediaZone Pro version 2.0.15, the company's first significant update to its new digital signage software application since its initial release in the fourth quarter of 2011.
The latest version of the digital signage software offers a long list of enhancements, including an Instant Commands wizard to send commands to an individual player or a group of players; a Retrieve Playlist function that allows a user to collect a playlist or schedule of playlists from a player; support for import or export of a playlist or schedule of playlists from an external USB drive; and a redesigned Add Web Page cropping tool.
"This software release offers customers more than 25 enhancements they've requested since our introduction of MediaZone Pro late last year," said Keywest Technology president Nick Nichols. "We are delivering on our promise to customers to give them greater control, flexibility and convenience with this release."
For example, the new Instant Commands wizard, which has been added to the Share menu, adds a greater level of flexibility by letting users communicate with a single player or group of players. Commands can include scripts to execute a range of functions, including controlling and triggering external events.
Another example is the Retrieve Playlists wizard that allows a user to retrieve a playlist or schedule of playlists from a player. This lets users update a desired playlist even if the media to be used is not stored or shared on their computers.
The new support for Import and Export from an external USB memory stick launches a wizard for retrieving or sending a playlist or playlists from the external memory device. This feature has a variety of uses including sneakernet, which provides a secure, simple approach to digital sign playlist management. It also can serve as a backup system in case the network were to go down.
Keywest Technology also has redesigned the Add Web Page cropping tool, which launches a full-screen Web browser with a blue window for setting and cropping dimensions.
The complete list of all of the MediaZone Pro enhancements available with this software release is available on the Keywest Technology website.
# # #