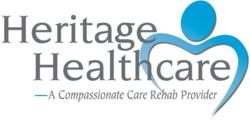 Through constant, open communication, Heritage Healthcare functions as a seamless extension of the facility staff
(PRWEB) January 26, 2012
Heritage Healthcare is beginning 2012 on a positive note with the addition of multiple customers in several states: Georgia, Kentucky, Texas, Virginia and Ohio. This recent growth allows senior care facility residents in more parts of the country to benefit from the "Heritage Difference" in rehab therapy management services.
A longtime industry leader in the Southeast, Heritage Healthcare has now expanded into 12 states, in part as the result of their core philosophy of Compassionate Care. By staying current with the ever changing Medicare rules and regulations, Heritage Healthcare Associates and the facilities they serve are prepared for industry changes well in advance.
Creating partner relationships with their customers, using frequent, open communication, having a thorough understanding of the complex regulatory environment at both the national and state levels, and placing clinical care above all, Heritage Healthcare continues to be highly responsive and supportive of customers' needs.
To learn more about the advantages of partnering with Heritage Healthcare, visit their website at
http://www.heritage-healthcare.com or call Al Eads at 877.508.3237, ext. 112.
###