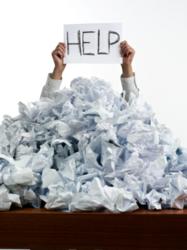 Without an applicant processing system, small companies tend to limit advertising on traditional job boards and social networking sites to curtail the influx of resumes. This is a no-win strategy.
Lancaster, Pa (PRWEB) January 26, 2012
Today's job market is tough, not just for prospective employees, but for employers as well. Recent studies show that it takes 100 or more applicants to find one qualified candidate. Finding the time to sift through all of the paperwork and emails is one luxury (and skill) few small businesses have these days.
"In response to our clients' frustration over this "resu-mess," says Ira Wolfe, President of Success Performance Solutions, "we are very excited to introduce Prevue APS Pro."
Prevue APS Pro is a modern, affordable and easy-to-use applicant processing system. It allows small businesses to screen employees faster and hire smarter. This innovative software includes a company career site for applicants to upload resumes, complete applications, submit other job-related information, and more. More importantly, businesses have the ability to qualify candidates using customized job and skill specific questions to weed out the mismatches and duds with a minimum of time and effort.
"Without an APS," Perfect Labor Storm 2.0 author Wolfe asserts, "small companies tend to avoid using multiple social networking sites like Craigslist, Facebook,and LinkedIn and limit advertising on traditional job boards to curtail the influx of resumes. This is a no-win strategy especially when recruiting skilled workers." Prevue APS Pro allows even the smallest business, who often don't even have a full time human resources person on staff, to cast the widest recruitment net possible. Companies can also post jobs on nearly a dozen job boards for free and still view all the applicants through one centralized dashboard.
Prevue APS Pro also eliminates wasted time spent on chasing and interviewing unqualified candidates, reducing the cost to hire (estimated to be nearly $3,500 per employee according to Bersin & Associates) and improving the quality of hire significantly. It is easily accessible from any computer, available to job applicants and employers 24/7. There is no software to purchase or install.
Prevue APS Pro has been used to recruit all types of positions including Sales professionals, C-level executives, administrative assistants, accountants, customer services representatives, managers, and more. As an added benefit, Prevue APS Pro includes the option to screen candidates with Prevue pre-employment assessments.
Reseller and business partner programs are also available for recruiters, staffing agencies, and human resource consultants.
For more information or to schedule a demo, contact Ira S. Wolfe at Success Performance Solutions or click here.
About Success Performance Solutions
Success Performance Solutions has been helping small and medium size businesses hire and manage competent employees with confidence for over 15 years. They believe that no business is too small to hire and retain the best employees. To accomplish this mission, It offers and supports state-of-the-art online applicant processing software, pre-employment assessments, and performance review systems.
# # #