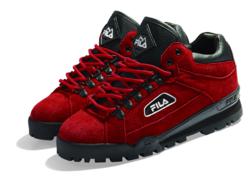 With the current outdoor influenced product trends, the Trailblazer was the obvious choice for Footpatrol's collaboration with Fila.
Sparks, MD (PRWEB) January 26, 2012
Fila has announced a product collaboration with Footpatrol, London's best-known destination sneaker store and internationally recognized for supplying the most exclusive sneakers to its customers. The teams at Fila and the Soho-based retailer scoured the vast Fila archives to resurrect the Trailblazer style from Fila's Mountain collection, an instant success during the 90's U.K. Rave scene. The objective was to remix the style while keeping true to the century of Fila design wisdom that went into its original form.
According to John Brotherhood, General Manager of Footpatrol, "The Trailblazer had a huge following in the 90's, and the team at Footpatrol – London fondly reminisces about the now footwear classic. With the current outdoor influenced product trends, the Trailblazer, which was designed in the foothills of the Italian Alps, was the obvious choice for Footpatrol's collaboration with Fila. We look forward to introducing this co-branded Trailblazer collection to our sneaker fraternity."
Available in two limited edition guises, the first style, the OG Trailblazer, has a premium full suede upper that is representative of the 90's original. Available in black or red, the midsole includes the classic Fila logo, hiking D-Ring lace hooks for cord style laces, tonal stitching and the Fila Mountain logo stitched on the ballistic mesh tongue.
The second style, the Trailblazer AM, named after the Apennine Mountain range in Italy, is a hybrid of the original using the same silhouette but with the addition of an outdoor sole for an updated twist. This style, available in tan or navy, includes a brand new blown rubber outsole, tan leather beading, premium smooth leather nubuck upper, subtle Footpatrol branding on the inner heel and some slight adjustments to the profile.
Both the AM an AG styles have subtle Footpatrol branding and come with a second set of contrasting laces.
The limited edition collection will debut on January 28th at Footpatrol's Berwick Street location in London's Soho district during a special launch event for Footpatrol customers. The OG Trailblazer will retail for £85 while the Trailblazer AM is priced at £110. In Sweden, Sneakers and Stuff will carry the Trailblazer at the Malmo and Stockholm locations. Limited quantities of both styles will also be available for U.S. customers via http://www.fila.com in April.
In 2011, Fila celebrated its centennial anniversary, a milestone for this historic brand established a century ago by the Fila brothers of Biella, Italy. Fila is now a leading manufacturer of sport and leisure footwear and apparel distributed worldwide. The internationally respected company, having gained world-class recognition in tennis apparel, has developed brand recognition by marketing high design and style content products that are endorsed by professional athletes from around the world.
###