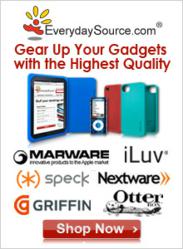 By expanding our product selection to OEM accessories, we are able to reach out to a whole new segment of consumers who are brand-loyal
El Monte, CA (PRWEB) January 26, 2012
The average American household spends over $1100 annually on gadgets according to a 2011 Consumer Electronics Association study. The CEA also forecasted that smart phones will take the lead in consumer electronic sales this year with over 108 million units expected to ship. It's a strong indicator that in a recovering economy, consumers still invest heavily in their mobile devices. Identifying the demand for premium cell phone accessories, EverydaySource.com has launched an extensive collection of OEM cell phone accessories for customers seeking quality and peace of mind beyond just rock bottom prices
"By expanding our product selection to OEM accessories, we are able to reach out to a whole new segment of consumers who are brand-loyal," said Jack Sheng, CEO of EverydaySource.com. "With over 1200 OEM accessories to choose from, customers can shop all their favorite brands in one place and enjoy some savings."
EverydaySource.com's selection of OEM accessories includes best sellers like OtterBox Commuter cases, Otterbox Defender cases, BodyGlove snap on cases, and a series of authentic Angry Bird iPhone cases from Gear4. For customers who are looking to score a good deal on OEM products, Griffin and Marware cell phone cases offer high quality protection at very affordable prices. Besides cell phone cases, over-ear headsets and USB mini speakers from Connectland make great companions for music lovers who takes their playlists on the go.
For over 10 years, EverydaySource.com has specialized in after-market electronic accessories and captured a loyal following with speedy delivery, reliable service and unbeatable value. The cell phone accessories retailer is now extending a welcome to new customers by offering up to 30% off their premium selection. All OEM accessories come with original Manufacturer Warranties.
With more than 6000 products in 8 product categories, EverydaySource.com is a one stop shop for all accessories for cell phones, tablets, computers, MP3 players, video games, digital cameras, home theaters, printer/ink toner, and more. EverydaySource.com's daily specials and frequent site wide discounts make it easy for shoppers to save money.
EverydaySource.com is currently the #3 globally ranked eBay seller with over 1.9 million positive feedbacks. Since its launch in 2010, EverydaySource.com has brought consumers high quality electronic accessories with a great, hassle-free shopping experience. That commitment is backed with a 100% Money Back Guarantee.
###