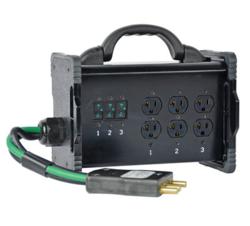 "Developing a portable power distribution box designed specifically for the motion picture and television production markets was a natural next step to meet industry demand," said Bob Luther, chief executive officer of Lex Products Corp.
Shelton, Conn. (PRWEB) January 26, 2012
Lex Products Corporation has expanded its PowerHOUSE™ line to deliver superior portable power benefits to the motion picture production market, it was announced today. The "Hollywood Box" was designed by Lex Products, to meet the special power distribution demands of the motion picture production and television production markets. Hollywood Boxes are portable, lightweight, compact and stackable, making them ideal for motion picture set applications.
Lex Products, a leading North American-based manufacturer of power distribution and control products, offers the new UL-Listed Hollywood Box in 60 Amp and 100 Amp stage pin versions. This box is ideal for providing 20 Amp power to lights on motion picture and television production sets.
"Lex Products' has experienced high demand for its portable power distribution boxes for entertainment applications, and developing a model designed specifically for the motion picture and television production markets was a natural next step to meet industry demand," said Bob Luther, chief executive officer of Lex Products. "In addition to delivering enhanced safety and convenience features, Lex Products can customize the enclosure for a variety of output options, allowing customers to choose a model that meets their individual needs best."
PowerHOUSE Hollywood Box Features & Benefits:
Safe and UL Listed: For enhanced safety, the Hollywood Box portable power distribution box features an electrically insulated enclosure, constructed of engineered thermoplastic material and are designed to be resistant to corrosion, shock and impact. The box employs breakers designed to avoid accidental tripping at high temperatures.
Selection of Options: The Hollywood Box features a number of configuration options, including NEMA rated duplex receptacle outputs, overcurrent protection, optional feed thru capabilities, and more. Lex Products can customize a distribution box system for a specific application, as well.
Convenient and Durable: The Hollywood Box weighs less than 8 pounds and is designed for enhanced convenience and manufactured for exceptional durability.
Fast Delivery: Lex Products' Hollywood Boxes are available from stock for quick delivery.
Lex Products offers a full line of PowerHOUSE brand portable power distribution boxes, ranging from 20 to 400 Amps, and designed for ease of use. For detailed product specifications or more information, please contact Lex Products at 1-800-643-4460 or info(at)lexproducts(dot)com.
About Lex Products Corporation:
Lex Products Corporation is a leading manufacturer of innovative power distribution and control systems for demanding markets, including entertainment, industrial and the military. Founded in 1989, the company specializes in portable power systems including distribution boxes, cable assemblies, cable protectors and other products, designed to withstand rough use and harsh environments. Lex Products is ISO 9001 certified in the design and manufacturing of sheet metal and cable assemblies. Created by the International Organization for Standardization, ISO 9001 is an international standard that mandates requirements for an organization's quality management system.
Headquartered in Shelton, Connecticut, the company also has offices in Sun Valley, California. The company was ranked in the 2011 Inc. 5000, and ranked 72nd for growth in the manufacturing segment. To learn more about Lex Products, please visit http://www.lexproducts.com.
###