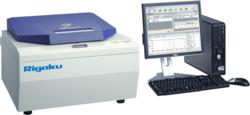 Austin, TX (PRWEB) January 27, 2012
Applied Rigaku Technologies, Inc. today announced a new empirical method for the elemental analysis of Mg, Al, Si, Ca and Fe in limestone. Application Note #1108 demonstrates the effectiveness of the polarized excitation and Cartesian geometry design of the Rigaku NEX GC energy dispersive X-ray fluorescence (EDXRF) spectrometer to provide superior light element sensitivity.
Calcium-bearing minerals are widely used in agriculture, energy, and road construction. Limestone has long been used as a key material in the construction of buildings and monuments, as well as the production of glass. It is used as a raw material in the production of quicklime, cement and mortar. Limestone is also used as a scrubber stone in the desulfurization of flue gas and as a reagent in blast furnaces to extract iron from ore. Purified, limestone has many uses as a calcium supplement in foods and animal feeds, and well as a whitener in cosmetics.
For this application, each sample is prepared by grinding to a fine, dry, homogeneous powder of <200 mesh (<75um particle size) using a ball mill. For measurement, 5 g of sample was pressed using 20 tons pressure for 30 seconds to form a pellet. The results shown indicate performance in a "real-world" situation where a short analysis time of 140 sec is required. Two secondary targets were used, the HOPG polarizer for light elements (Na-Cl) at 100 seconds, and the Cu target for Fe at 40 seconds.
A copy of this report may be requested at:
http://www.rigakuedxrf.com/edxrf/app-notes.html?id=1108_AppNote
About Rigaku
Since its inception in Japan in 1951, Rigaku has been at the forefront of analytical and industrial instrumentation technology. Rigaku and its subsidiaries form a global group focused on life sciences and general purpose analytical instrumentation. With hundreds of major innovations to its credit, Rigaku and its subsidiary companies are world leaders in the fields of small molecule and protein crystallography, X-ray spectrometry and diffraction, X-ray optics, as well as semiconductor metrology. Rigaku employs over 1,100 people globally and its products are in use in more than 70 countries – supporting research, development, production control and quality assurance activities. Throughout the world, Rigaku continuously promotes partnerships, dialog, and innovation within the global scientific and industrial community.
For further information, contact:
Scott Fess
Product Manager
Applied Rigaku Technologies, Inc.
tel: +1. 512-225-1796
info(at)RigakuEDXRF(dot)com
###