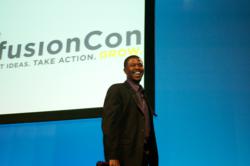 "InfusionCon is not your "typical" software user conference," says Infusionsoft Events Manager Nicole Shoots. "
Phoenix, Ariz. (PRWEB) January 26, 2012
Four small businesses will compete for the Ultimate Marketer title at the Infusionsoft user conference, InfusionCon, in Phoenix on April 2. Infusionsoft, the only provider of an all-in-one sales and marketing software for small businesses, announces today the rules and prizes for the annual contest as well as the theme "How Have You Put Infusionsoft in Motion?"
"InfusionCon is not your "typical" software user conference," says Infusionsoft Events Manager Nicole Shoots. "It goes beyond intensive product training and marketing advice. Small businesses come from all over the world to attend this event because they get inspiration and ideas from other entrepreneurs. The passion that our Ultimate Marketers show on stage is infectious and that's why it has always been an attendee favorite."
The annual contest recognizes customers that have executed successful and creative campaigns using Infusionsoft's web-based sales and marketing software. After reviewing the submissions, Infusionsoft's panel of judges will select four finalists to present on stage at InfusionCon in Phoenix on April 2.
Customers have until February 7 to submit and the four finalists will be announced on February 27. The finalists will each give a 40-minute presentation on the first day of the conference to tell their success story and share with attendees how Infusionsoft helped their business get more customers, grow sales and save time. Conference attendees will vote online and the winner will be announced on the second day of the conference, April 3.
The winner of the contest will receive an all-paid trip to the Infusionsoft headquarters for a one-day strategy session with Infusionsoft founders Clate Mask and Scott Martineau. Additionally, they will win a round-trip, five-day, four-night stay at the Fairmont Kealani in Maui for them and a guest. The first, second and third runner-ups will receive cash prizes of $2,000, $1,500 and $1,250. Infusionsoft will also pick 25 Industry Innovators demonstrating a smart use of the software in their field and they will each win $1,000.
InfusionCon brings together more than 1,000 small businesses from across the globe for expert-led panel sessions, keynote presentations from bestselling authors and industry thought leaders, intensive product training, and endless networking opportunities. To learn more or to register for InfusionCon, visit http://www.infusioncon.com
About Infusionsoft
Infusionsoft provides the only all-in-one sales and marketing software for small businesses. Its sales and marketing software combines customer relationship management (CRM), marketing and e-commerce into one complete web-based solution to help small businesses get more customers, grow sales and save time. Infusionsoft has a rapidly growing customer base of more than 8,000 small businesses and 28,000 users. The privately held, five-time Inc. 500/5000 company is based in Gilbert, Ariz. and is funded by Mohr Davidow Ventures and vSpring Capital. For more information, visit http://www.infusionsoft.com.
###