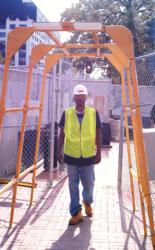 Reston, VA (PRWEB) January 31, 2012
ADR Software, LLC, a leading provider of automated workforce monitoring and daily activity reporting to the construction industry, today announced that it had updated the compliance monitoring tools in its Workforce Monitor service in anticipation of the upcoming changes to the DC First Source law. ADR's automated Workforce Monitor service is used by construction contractors and owners to track workers coming and going from job sites. The information is collected using RFID (radio frequency identification device) tags affixed to hard hats and ID badges. As the tags are read, information about the composition of the contractor's workforce is available in real-time so decisions can be made pro-actively regarding issues such schedule maintenance, shift balancing and regulatory compliance.
"Workforce Monitor has been a great local employment compliance tool for general contractors around the United States," said Bruce Labovitz, ADR's co-Founder and President. "The technology behind the Workforce Monitor service provides GCs and owners with real-time information about what workers are on site, who they work for and how long they've been on site. General Contractors and project owners also have the ability to analyze their workforces in real-time and monitor information such as the distribution of the workforce by zip code, ethnicity, gender, trade, job function, previous employment status and more. We look forward to continuing to assist our clients and local governments achieve their workforce compliance goals."
Workforce Monitor is a service of ADR Software, LLC. General contractors, owners, project managers and sub-contractors use the service for any number of reasons including: to enable real-time workforce decision making, to create accurate and timely project workforce documentation, to meet contractual security obligations, to improve safety awareness and response readiness and to reduce exposure to financial risk.
Workforce Monitor utilizes RFID tags, embedded in all-weather job stickers affixed to hard hats and ID badges, to monitor workforce activity throughout the day without delays, interruptions or intrusions. Workforce Monitor is currently monitoring over 20,000 workers at construction sites throughout the United States.
# # #