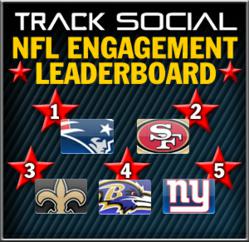 Online platforms are the perfect outlets for channeling fan enthusiasm and it can confidently be said that: Winning = Engagement.
(PRWEB) January 26, 2012
Track Social announces release of NFL Engagement Leaderboard and NFL Teams Zone. The NFL Engagement Leaderboard ranks the 32 NFL Teams on Social Media Engagement with their fans. The NFL Teams Zone providing ongoing Leaderboards, News and Articles about the NFL Teams on Social Media. Track Social (tracksocial.com) is a Social Media Analytics platform for Smart Marketing that benchmarks brands and grades them on Presence, Audience, Engagement, and Buzz, as well as hundreds of other social marketing metrics.
When a team kicks, do their fans return?
Track Social's NFL Engagement Leaderboard takes a look around at the performance of NFL Teams in Social Media to find out which teams are scoring highest in the daily competition for social media engagement. And just like the action on the field, some online strategies score bigger than others.
The Winners, The Losers, and The Surprises of the Engagement Game
This year, four of the top five NFL teams on the Social Engagement Scoreboard also made it to the Conference Championship round so there's no question that performance on the field can have a huge impact on fan interaction. The Social Engagement Leaders of the NFL are:
1. New England Patriots
2. San Francisco 49ers
3. New Orleans Saints
4. New York Giants
5. Baltimore Ravens
(Check out the full scoreboard to see where the other teams ranked)
Online platforms are the perfect outlets for channeling fan enthusiasm and it can confidently be said that: Winning = Engagement.
However, there are always exceptions. Despite a heartbreaking loss to the San Francisco 49ers for a chance to play in the NFC Championship, the New Orleans Saints still manage to attain high levels of fan engagement even without anymore game time this season. What's their secret? Posting photos and videos on their Facebook page reminiscing of their Superbowl win two years ago. Boy do those memories ignite their fans! Or maybe Saints fans just show more love?
Outside the top five, season stats and engagement rankings don't always have an automatic correlation.
Three teams that made the Playoffs didn't rank higher than the middle of the pack. Atlanta, Detroit and Cincinnati (17, 18, 19 respectively) were all surpassed by seven teams that never advanced to the Wild Card round but still managed to cultivate high levels of fan interaction through posts and tweets. What's more, the team with this year's worst regular season record – the Carolina Panthers – managed to come in at number 14.
No doubt about it, having an active and loyal social media fan base can get a team far on the Track Social Engagement Leaderboard, even if they do make one too many turnovers on the field.
In terms of audience size, Track Social has previously released data on which teams dominate the Facebook Fan count, but the number of fans doesn't always speak to the quality of a team's interactions. Measuring social media engagement is about observing how online audiences respond to brand-initiated interaction. So when a team puts up a post on its Facebook wall, throws out a Tweet, or launches a new Facebook app, what's the response it gets back compared to the relative size of its online audience?
Pittsburgh, for instance, took 2nd in the number of Facebook Fans but drops to 11 on the Engagement Scoreboard. And Jacksonville – last place in Facebook Fans – earns a very respectable 13th place, by generating engagement partly with fan-centered posts like this: "What would you like to see different at EverBank Field to make your gameday experience better?"
As for the top performers, the Patriot's "Ask A Pat" video series inviting Fans to submit questions for a different team member each week can be noted. The answer gets filmed and posted to Facebook. But sometimes the basics work just as well:
"The most important player in this weekend's game will be _______ because ______."
With over 3,000 Likes and 4,000 comments, it can safely be said that classic old-school prognosticating is still one of the best parts of being a fan.
And that's really what social engagement is all about: encouraging and provoking the kind of dialogue, excitement, and, yes, controversy that makes being a diehard fan so much fun. What happens on the field is still the reason that fans get excited. But what happens online is one of the best ways to keep fans – and franchises – in the game, even when it's off-season.
For all the latest on what the NFL Teams are doing on social media, including a live stream of NFL social media news and the Track Social interactive brand map, check out the Track Social NFL Team Zone!
About Track Social
Track Social monitors, aggregates and analyzes the Social Media accounts of thousands of businesses across multiple social media platforms. It operates around the clock, collecting millions of data elements from social media platforms such as Facebook, Twitter, YouTube and LinkedIn.
For more information about Track Social, please visit http://tracksocial.com/
About Sprokkit
The maker of Track Social, Sprokkit, is a marketing agency based in Los Angeles, California. It prides itself on fusing the logical with the inspirational, and generally making sense out of a world full of nonsense.
For more information about Sprokkit, please visit http://sprokkit.com/
###