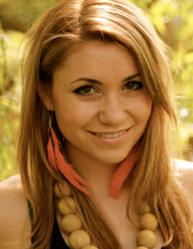 "Contiki has long been present in the online community, and acquiring a partnership with a YouTube star like Nadine further solidifies that presence"
Anaheim, Calif. (PRWEB) January 27, 2012
Contiki (http://www.contiki.com) is thrilled to kick off 2012 by announcing a partnership with global YouTube celebrity Nadine Sykora (http://www.heynadine.com).
With 28 million YouTube views, over 196,000 loyal subscribers, 14,800 Facebook fans and 23,500 Twitter followers, Nadine has carved out her own niche as one of the web's most popular social media mavens, and has recently been recognized as such at the 2011 Digi Awards. Young, fun and enthusiastic about travel, Nadine is the ideal representative of Contiki, the original youth travel brand since '62.
Nadine was introduced to Contiki when she joined a media familiarization trip to Peru and Argentina in September 2011. Enthusiastic fans followed along as she blogged and uploaded videos of the trip, visiting Machu Picchu, tasting delicious Peruvian food and feeding a group of furry alpacas. Her vibrant personality and ability to connect to her viewers on a personal level attracted Contiki to partner up with Nadine as a global representative of the brand.
"I'm so incredibly thrilled to have the opportunity to partner with Contiki," says Nadine. "As a young traveler myself, it's wonderful to be supported by a company that really understands what people like me want from travel. I can't wait to begin filming my journey and sharing my experiences with the world."
Beginning on January 22nd, Nadine set off on a multi-trip Contiki journey, starting on the 15-day Grand Explorer, travelling through adventurous New Zealand. From there, she'll jet off to join the 12-day Cairns Sunshine Trail throughout the natural wonders of Australia's East Coast, then finish with the 25-day Big Indochina Adventure and the 9-day Thai Island Hopper East where she'll see all there is to see in Thailand, Vietnam, Laos, and Cambodia. Nadine's loyal following will immerse themselves in Contiki culture as she treks through active craters in Taupo, goes whitewater rafting in Cairns and takes in the beautiful Vietnamese countryside on a guided bike ride.
"Contiki has long been present in the online community, and acquiring a partnership with a YouTube star like Nadine further solidifies that presence," says Alastair Campbell, Global Brand Director for Contiki. "Nadine truly exemplifies the Contiki spirit, and we think that her enthusiastic approach to traveling is the perfect way to show off the Contiki experience."
Head over to Contiki's YouTube page to check out Nadine's latest videos, from parasailing to swimming with dolphins in beautiful New Zealand.
For more information please contact your local travel agent or please visit us at: http://www.contiki.com
About Contiki:
Contiki Holidays has inspired students and young professionals, 18 - 35 year olds to travel to the world's most fantastic destinations for 50 years. The trips are hassle-free and include the perfect mix of sightseeing, culture and free time. Choose from over 190 itineraries throughout Europe, Russia, Egypt, Southeast Asia, Australia, New Zealand, South America, Mexico, Canada & the USA. For more information, visit http://www.contiki.com.
###