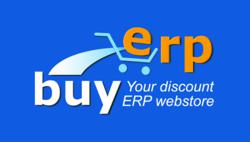 "We did an extensive search to find a suitable supplier for our MS Dynamics GP software requirements. We can confirm that BuyERP not only provided the lowest price for the software but their service was excellent
Las Vegas, NV (PRWEB) January 26, 2012
In business for just over a year, BuyERP.com has grown exponentially with numerous software sales and customer adds. BuyERP was started as a simple concept; to get a quality product, Microsoft Dynamics Accounting Software, to customers at guaranteed low prices in less than 48 hours. During these difficult economic times, business software is more important than ever. There is value to software, and BuyERP.com has found a way to offer it at affordable prices. This has translated to the website's success as companies from all over the world have taken advantage of their low prices and excellent customer service to purchase their ERP software. Because of this, BuyERP.com is proud to announce two new achievements: greatest number of customer adds for a quarter during their 4th quarter of 2011 and greatest number of customer adds in a month during December 2011.
BuyERP has fulfilled the needs of customers everywhere. During this successful 4th quarter they added new customers from all over the United States, including New York and California and everywhere in between. They also added multiple international companies including their first from the Middle East. "We did an extensive search to find a suitable supplier for our MS Dynamics GP software requirements. We can confirm that BuyERP not only provided the lowest price for the software but their service was excellent" said Craig Horan & Yousif Basalios on behalf of Endress And Hauser (Arabia). The Microsoft Dynamics product is truly a worldwide accounting system as many of BuyERP's clients have offices all over the world. Offering such versatile products that can be used in essentially any language, BuyERP has made its imprint globally in the ERP software market and are excited to continue to grow and expand.
BuyERP.com can attribute their growth to their ability to adapt to the market by adding new products that cater to their customers' needs. BuyERP currently offers Microsoft Dynamics GP, Microsoft Dynamics NAV, Microsoft Dynamics CRM, Microsoft Office, Windows 7, SQL Server, and many more products. They continue to provide the best Microsoft Dynamics software deals found anywhere by offering excellent customer service and discounted pricing that consumers rely on. They also provide their customers monthly specials which include Microsoft's "Give Me Five" deal designed for new customers who can purchase 5 Dynamics GP or NAV users for only $3,000. BuyERP.com also promotes their own specials which can only be found on BuyERP.com, including "25% off all users for Existing Customers" or a consumer favorite in "Buy One A LA Carte module and get one 50% off". The fundamentals of providing the best software available and offering the best prices found online has paid dividends and is responsible for BuyERP.com's most successful quarter to date.
Microsoft Dynamics software is extremely versatile, so it can be implemented in almost any industry. From this past quarter BuyERP's new customers include companies in the Entertainment, Distribution, Clean & Green Energy, Fashion, and Manufacturing industries just to name a few. Not only can BuyERP provide you with the software at a discount, but they also offer remote implementation and consulting services. BuyERP's experienced team of specialists and consultants will walk your company through step by step for installation, implementation and training portions for setting up your software. BuyERP's team of experts are available to assist you with finding the right software and implementation plan to insure your company's success. They have a live chat available for any quick questions you might have or you can call them toll free at 1-888-377-3955 for any further questions. BuyERP appreciates their customers and looks forward to working with you soon!
###