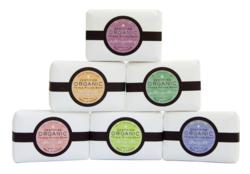 If it is in our soap, it's on our label.
New York, NY (PRWEB) January 28, 2012
Ton Savon, a leading manufacturer of bath and beauty products from the South of France, today introduces Pure Provence Organic soap certified by the USDA National Organic Program (NOP) to the public for the first time. The organic and 100% natural soaps are being showcased Ton Savon's booth (#7672) on the exhibit floor of the trend-setting New York International Gift Fair (NYIGF) at the Jacob K. Javits Convention Center.
A fragrance-free soap joins the Pure Provence line of natural and organic soaps which were named a Best New Product Finalist at the 2011 NYIGF in the natural/organic category. This year Pure Provence Organic returns with the new unscented addition and the entire line has been updated with the recently-earned organic certification from the United States Department of Agriculture. Ton Savon is the only French soap manufacturer to earn that classification.
Pure Provence soaps are 100% natural and crafted in the South of France free of any preservatives, colorants, or chemicals. The scented versions are blended with essential oils or natural fragrances developed by the legendary perfumers of Grasse, France, to deliver bliss-inducing scents including Acai Cranberry, Pomegranate Passion Fruit, Moroccan Mint, Grapefruit, Cactus Pear, and Lavender.
The fragrance-free version creates the same luxurious soap experience for those with allergies and sensitivities. All Ton Savon soaps, including the Pure Provence, Savon et Cie and La Belle Vie brands exhibited at this year's NYIGF, are triple-milled. This ensures a long-lasting bar with relaxing, cleansing, and invigorating lather.
"Ton Savon's commitment to our customers inspired us to earn the USDA NOP certification for our Pure Provence Organic soap," notes Dana DeVorzon, CEO of Ton Savon. "If it is in our soap, it's on our label."
NYIGF attendees can stop by the booth (#7672) now through February 2nd to learn more about the company and can sign up as a Facebook fan on the spot for a free bar of Ton Savon's La Belle Vie Cotton Milk soap.
Retailers who miss Ton Savon at the NYIGF can visit http://www.TonSavon.com to learn more about the soaps and the company behind them. Consumers who are unable to find USDA certified French organic soap in stores near them can purchase Pure Provence organic soap directly through Ton Savon's online store at http://www.FrenchBathProducts.com. Obtaining organic certification recognized by the USDA for products created domestically or overseas is a process that has not been taken by the vast majority of personal care manufacturers. The NOP initiatives protect consumers from misuse of the term "organic" and make identifying organics in the marketplace easy.
Ton Savon has formulated many prestige brands sold in boutiques such as Sephora and Anthropologie, as well as high-quality private label and exclusive natural and organic HBC products for market leading natural food stores, grocery, drug, and club chains including Trader Joe's and Costco. Ton Savon's own Pure Provence line provides retailers with the only turnkey solution for offering USDA certified organic soaps from France.
###