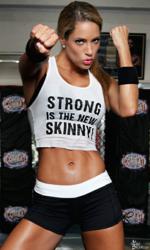 "Strong is the New Skinny"-Jennifer Nicole Lee
New York City, New York (PRWEB) January 26, 2012
Jennifer Nicole Lee is the author of the now famous fitness catch phrase "Strong is the New Skinny." When she was the first to put this phrase on a t-shirt, the first to put on her "Jennifer Nicole Lee Fitness Model Diet Book" and the first to ever use in an interview.
When asked why she was motivated to create this saying, and to brand it into her existing JNL Worldwide, Inc merchandise, JNL stated "I wanted to parlay the instant message that being skinny doesn't equate being healthy or fit. I see the skeletal chic trend in the modeling industry, and it alarmed me, as many young women suffer from low body self esteem. I too starved myself and was obsessive about my cardio, at once doing 2 hours a day, and eating under 1,000 calories. I got down to my lowest weight ever, but wasn't healthy and had little to no energy. Then I started my research and discovery of how to be really full of energy, stamina and have endurance, and the key was muscle toning exercises. Thus I created my trademark catch phrase of "strong is the new skinny', which then started a mad craze. I get emails from all around the world from women who can relate to my message."
Jennifer Nicole Lee is also the creator of the hottest fitness training methods to date, which is called JNL Fusion. She just wrapped up her successful JNL Fusion 2nd World Conference, which she hosts to an elite international clientele, who come in from every corner of the globe. She now has shifted her career from fitness competing, to helping real women who face real body issues achieve their fitness goals.
One woman in particular was touched by JNL's top coaching and training techniques.
Nissa Salas on the 2nd Annual JNL Fusion Master Certification Program:
"I absolutely loved the first JNL Fusion Master Certification Program from 2011 that I immediately signed up for the second one that was held in Miami in January 2012. I was exited to have lost 10 dress sizes post certification and I went from a size 18 to a size 4/6 and have kept those results for 8 months. During the recent certification event, I was delighted to see many of the graduates from the 2011 class and I met new women from many walks of life. I keep in touch with many of these individuals and have heard their positive responses as well. Many feel that it was a life changing and empowering experience that will affect them and their families. Jennifer Nicole Lee made each and every woman feel empowered and has started a fitness and self empowerment revolution that is being felt all over the world.
The JNL Fusion method and it's trainers are showing everyday people that mental and physical change is possible, accomplishable, and necessary for enhancing life results. I am so happy that I became part of the JNL Fusion family and that I am a walking and talking example of what happens when individuals believe in lasting results."
For more info, please visit http://www.JenniferNicoleLee.com and http://www.JNLClothing.com
###