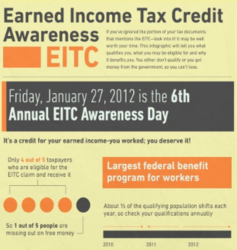 "...about 1/3 of the population able to claim the credit shifts every year, so ineligibilty one year has no effect on eligibilty for the following year, etc."
Apollo Beach, FL (PRWEB) January 27, 2012
Heard of the Earned Income Tax Credit? If not–or if so, but questions linger as to whether one might be eligible–take note: every year, people miss out on free money by not claiming the EITC. The IRS is sponsoring the 6th annual EITC Awareness Day this Friday, January 27, 2012, so be sure not to be left out.
The EITC is the largest federal benefit program for working people, but only 4 out of 5 eligible taxpayers claim their rightful EITC each year. That means that 20% of people who could be getting free money simply do not.
According to a recent CreditLoan.com illustration, about 1/3 of the population able to claim the credit shifts every year, so ineligibilty one year has no effect on eligibilty for the following year, etc.
Last year's Awareness Day saw over 600 events, 15,000 assisted taxpayers and 57,000 people contacted via social media about the EITC.
Those who are married filing jointly and with 3 or more children are allowed the highest income bracket, $49,078 annually, to still qualify for the credit. They can earn up to nearly $6,000 from the IRS. With no qualifying children and no joint filing, the maximum income to qualify is $13,660 a year. However, one may still qualify for several hundred dollars.
Check the correct bracket when looking to determine qualifications and eligibilty . Checking one's city, county or state to determine if that area offers its own separate EITC on top of the federal credit.
In 1997, there were fewer than 20 million American workers, and the EITC only doled out $30.4 billion total. But in 2011, over 26 million American workers earned nearly $59 billion, with the average worker getting $2,240.
California and Texas had the highest payouts, with $6.48 billion given to qualifying taxpayers. However, Mississippi handed out the highest average per worker at $2,610.
The EITC is especially vital for impoverished workers and their families–it pulls 6.6 million people out of poverty each year. And while other federal assistance programs do amazing work, the EITC has a wider reach and a bigger payout. Temporary Assistance for Needy Families served just under 4.5 million people in 2011–17% of the number of people who received the EITC. Federal awards in 2009 nearly reached $21.8 billion–but that's still only 1/3 of the EITC payout.
According to the IRS, several types of eligible people are at risk for missing the credit, including those with changed marital/parental status, Native Americans, disabled people/those with disabled children, and more.
21% of US children live in poverty, and they can be helped immensely when their qualifying parents claim the EITC. Families need to earn about twice the poverty-level income in order to support a family of four.
Don't miss out this year. Spread the word about EITC Awareness Day on January 27 and claim any eligible credits when filing!
About CreditLoan.com
CreditLoan.com is a leading source of information for consumers that are seeking assistance with financial and credit services. Established in 1998, the site offers valuable one-stop access to data visualizations, financial calculators and loan applications. CreditLoan.com is headquartered in Apollo Beach, FL.
###