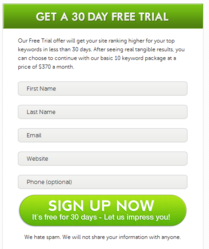 ...it is imperative to double the force of our customer support team to match the increasing demand for SEO." --JP Bisson
Cebu, CEB (PRWEB) January 27, 2012
Quick SEO Results, a trusted provider of SEO service announces the latest update on its service. In order to meet the growing demand of its SEO service, Quick SEO Results recently hired ten (10) Customer Service Representatives. Quick SEO Results is in the industry to help small and medium enterprises to build presence online by optimizing websites using a variety of SEO strategies.
Successfully launching its 30 day free SEO trial, Quick SEO Results was flooded with an influx of clients wanting to sample the service. "The company's decision to hire more Customer Service Support is motivated by the desire to continually cater to the needs of our clients. In such a short period the growth was massive calling for more manpower to accommodate our valued clients and provide them with the quality service they deserve," mentions Managing Director, JP Bisson.
Business Development – Managing Director, Jonathan Kennedy says "We figure that it is imperative to double the force of our customer support team and match the increasing demand for SEO." From a group of 10 Quick SEO Results reps, it now houses 20 skilled and friendly in-house Customer Support Representatives.
"Each one of them has undergone a series of training to fully hone their skills in communication and in order to troubleshoot well client concerns. It has been and will always be our guiding principle that for a business to succeed, it has to value its customers and to do whatever it takes to provide them with the right channel of communication. This channel is to answer questions and alleviate doubts about the service we provide. And that is embodied by our team in the Customer Service Department," Business Development – Managing Director, Jonathan Kennedy adds.
Quick SEO Results is a Canadian SEO company that helps agencies and resellers boost their search engine marketing. From enhancing keywords to garnering organic traffic, Quick SEO Results promises to deliver its best. For more information on its packages and pricing, visit their website at http://www.quickseoresults.com.
About
Quick SEO Results is a wholly owned company by Clicking Labs. With dedication and perseverance they were able to bring together a diverse team of web professionals to provide internet businesses with creative web marketing strategies. Founded in Ottawa, Canada, the company has expanded operations to Cebu, Philippines in early 2011 to better serve its clients.
###