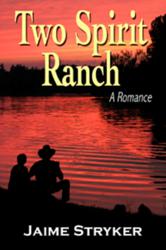 "Popular art reflects culture, and the past year brought transgender issues to the forefront. It was simply time for a romance novel that also touched upon gender issues."
Las Vegas, NV (PRWEB) January 27, 2012
Chances at Romance announces the publication of perhaps the first mainstream romance novel with a transgendered heroine. "Two Spirit Ranch" explores when love is challenged by a rugged sheriff's preconceived notion about gender and the heroine's fear of not being loved for the woman she is.
After a year of unprecedented publicity regarding transgender issues in the entertainment and political worlds, the book, written by Jaime Stryker, hopes to give an unconventional twist to a conventional tale. Stryker, who is a longtime fan of the genre, says, "Popular art reflects culture, and the past year brought transgender issues to the forefront. It was simply time for a romance novel that also touched upon gender issues."
The title delves into the fact that some Native American tribe members could assume the identity of the opposite gender and still be accepted and respected by their community. "Many of the native peoples believed a spectrum of gender identities was part of nature's diversity." Stryker goes on to say, "When European colonization started to dominate the region rigid gender roles became the norm."
Jaime Stryker, a Los Angeles based writer, began reading romances at the age of eleven when she would sneak away some of her mother's books. She always dreamed of seeing her name on the cover of one of the heart swooning tales. To find out more about Jaime, please visit http://www.chancesatromance.com.
David Pearson, Senior Vice President of Brand Development, for Chances Press, LLC says, "Publishing sales figures have shown that mainstream audiences have begun to accept other romantic sub-genres such as gay love stories. So, why not create another sub-genre that helps educate readers about the transgender experience? Love and romance is universal."
Chances at Romance, an imprint of Chances Press, LLC, publishes a variety of romance sub-genres to give readers love stories with a fresh perspective. Other authors in the line include Madison Martin "Nights on Catalina" and Tabitha Foster "Short Order Daddy, Surprise Billionaire." Chances at Romance will also expand into the growing gay romance market this summer with "Tooth and Nail: A Gay Love Story."
Two Spirit Ranch: A Romance
Author: Jaime Stryker
ISBN: 978-0615593302
Retail: Available from most online book retailers, including Amazon, e-bookstores, or on order from your local bookstore.
Wholesale: CreateSpace Direct
Media Contacts- including to request review copies and interviews:
Chances at Romance: Chances Press, LLC
(702) 789-0753
info(at)chancesatromance(dot)com
###