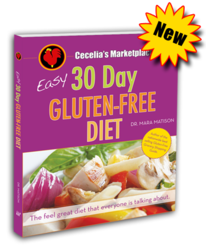 30 Day Gluten-Free Diet Challenge - February 1st - March 1st.
Portage, MI (PRWEB) January 26, 2012
Cecelia's Marketplace is excited to announce the 2012 30-Day Gluten-Free Diet Challenge. For those looking to make major improvements in their diet and overall health this year, going gluten-free just may be the solution they have been looking for. Gluten intolerance and celiac disease affect millions of people in the U.S., many of whom don't even know that gluten is the source of many of their health problems. Cutting this ingredient out of your diet is a great way to find out if gluten is negatively affecting your health and to commit yourself to eating healthier.
Participants in the 30-Day Gluten-Free Diet Challenge will attempt to eat a diet completely free of gluten, a protein found in a variety of foods including wheat, barley, rye, and certain other grains. In order to help those involved, Cecelia's Marketplace has published a day-by-day guide for this particular diet challenge. The Cecelia's Marketplace Easy 30-Day Gluten-Free Diet book provides all the information that participants need, including daily meal plans, gluten-free recipes, a grocery shopping guide and information on gluten intolerance and celiac disease. Best of all, those who purchase the book by February 1 are automatically registered in their drawing to win a $100 Amazon.com gift card and a free product from CeceliasMarketplace.com.
The 30-Day Gluten-Free Diet Challenge officially kicks off on February 1, 2012, making this a great way to jumpstart those New Year's Resolutions that we've been putting off for the last month. With this challenge and the new Easy 30-Day Gluten-Free Diet book from Cecelia's Marketplace, countless people will be able to transform their diet and create a healthier, happier lifestyle.
###