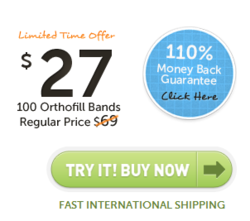 Orthofill Orthodontic Bands are safe to use, easy to secure to ensure that snap on smile. Fast international shipping!
Cebu, CEB (PRWEB) January 30, 2012
Orthofill is a dental care brand in Canada that has helped thousands of clients by providing clients with bands as alternatives for closing a tooth gap without the need for orthodontic braces. The company has announced that they will be providing fast and reliable international shipping for its clients. Alongside the fast shipping, the company has released a limited time offer on their Orthofill bands. From the regular price of $69/100 bands, they will be selling their bands at only $29 for 100 bands.
It has been a long standing thought that traditional orthodontic braces have long been the only permanent recourse for closing a teeth gap. However, the nature of the process is generalized and sub-optimal for treating simple cases such as gap in teeth. Due to the need in the dentistry and dental care field for a professional and less intrusive alternative to treat gapped teeth, Orthofill was invented. Orthofill bands provide the calculated and gradual pressure on the teeth to ensure a safe and permanent gap closure within a 30 day period.
According to Orthofill's skilled team of dental professionals "Orthofill Orthodontic Bands are safe to use, easy and secure to ensure that snap on smile. Teeth gap is a simple orthodontic condition which can be easily treated. It is caused by the action of a labial frenulum (the tissue around the lip) causing high mucosal attachment and less attached keratinized tissue which is more prone to recession or by tongue thrusting, which can push the teeth apart."
Orthofill, having been in the industry since 2010 has received hundreds of testimonials all over the globe for their miraculous 30 day results. Since their humble beginnings, they have grown hundredfold in terms of orders and are dedicated to continue on growing and improving their product. With its fast international shipping, it can provide its clients the quick solution they need in order to get that perfect smile.
Orthofill also offers a 110% Money Back Guarantee. Their company policy is to provide its clients a risk free package. Delivery time is only 10-14 business days and comes along with the bands are instructions for the product. Their Customer Representatives state that "If for any reason you are not completely satisfied you can simply send it back to our mailing address and we will give you a full refund with no questions asked." Orthofill Orthodontic Bands have been featured in Canadian Health, Reader's Digest, New Beauty, AOL Health, Doctor and Best Health Magazine. Visit http://www.orthofill.com for more information and updates.
About
Orthofill is a wholly owned company by Clicking Labs. With dedication and perseverance they were able to bring together a diverse team of web professionals to provide internet businesses with creative web marketing strategies. Founded in Ottawa, Canada, the company has expanded operations to Cebu, Philippines in early 2011 to better serve its clients.
# # #