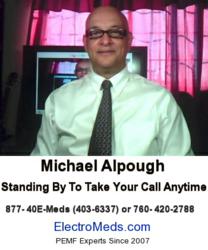 Over 95% of our clients are feeling relief on a daily basis.
San Diego, CA (PRWEB) January 25, 2012
Pulse Electromagnetic field therapy or PEMF works by using electrical energy to direct a series of magnetic pulses through the injured tissue. This stimulates healing at a cellular level. The body begins the healing process almost instantly and begins relieving pain within just a few minutes! PEMF therapy is safe and effective. No prescription or a doctor's recommendation is required. The all-natural pain therapy systems can be self administered in the comfort of an individual's home. PEMF therapy is also FDA approved for bone density loss.
Michael Alpough of Electromeds has this to say, "PEMF therapy really does work. Of the 300 PEMF devices electromeds.com has sold since 2008 only 10 units have been returned, which means over 95% of our clients are feeling relief on a daily basis. Most of our clients experienced chronic and extreme pain and put the PEMF devices by ElectroMeds to the test with results that speak for themselves."
Four of five users begin to experience pain relief within 20 minutes of using a PEMF device. One user, Patricia of Garden Grove, CA. has this to say, "I am such a pleased customer with the Medithera Pad that I have been using. I have fibromyalgia, and I have been getting such tremendous relief. I sleep better at night, and I have more energy in the day. I would highly recommend this product to anyone who has chronic pain. My inflammation and pain are almost all gone. I do know that regular use is the key. I plan on incorporating this regime into my daily plan. When I use it at night, I do sleep better. I have more vitality and well-being. I especially love the fact that after my 30 day trial period and I give 3 referrals and a testimonial, I am receiving a free massage table. How great is that? A company that is honorable, and forthright. Dr. Oz did mention this product after I purchased my Medithera."
PEMF therapy has been in development and around in some form for over 60 years. The technology was actually developed for astronauts. When astronauts are in space and are without the earth's natural magnetic field, the body's cells literally begin to jellify or become quite stressed. The device was originally developed to give astronauts access to an "artificial" Earth's magnetic field that their bodies required. It was discovered by accident that this was also an amazing pain reliever. ElectroMeds offers several different pulse electromagnetic field therapy devices.
About the Company
ElectroMeds PEMF therapy systems help suffers of chronic pain to experience relief without drugs. ElectroMeds has been marketing this technology since 2008. Health care professionals interested in offering PEMF therapy to their patients, or an individual looking for pain relief, can contact ElectoMeds by going to their website.
All products on the Electromeds.com website come with a 30 day money back guarantee, so there is no risk to try one.
###