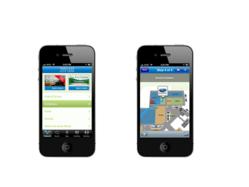 "Our visitors will see the benefits of the Meridian app immediately upon downloading it. Not only does it put information about every event in the building right in your hand, but it can give you walking directions." -- OCC
Portland, Oregon (PRWEB) January 26, 2012
Every day, convention centers welcome busy visitors trying to find the myriad conferences and trade shows set up in various wings of their buildings. In the mobile-phone-laden city of Portland, the Oregon Convention Center will be the first convention space to offer search tools and indoor navigation to those visitors' mobile phones. Teaming with mobile-software company Meridian, the Oregon Convention Center (OCC) is kicking off its smart-phone tools at the second largest event in the state: the Portland International Auto Show held Jan. 26 - 29, 2012.
Once downloaded for free in the Android Market and Apple App Store, the Meridian app will show visitors mobile tools specifically designed for both the Portland International Auto Show and the OCC.
Visitors to the Auto Show will want to choose that tailored option, as the app will allow them to search and view multimedia about various automobiles, exhibitors, food and beverage vendors, events and information on the OCC's facilities. What's more, visitors can use Meridian to receive turn-by-turn directions from wherever they are in the building to anywhere they are going.
In addition to providing their visitors with helpful mobile apps, the staff of convention centers find Meridian useful because it comes with a content management system (CMS). This CMS, Meridian Editor, makes it easy for convention centers to take charge of their own mobile experiences to quickly change out mapping and content as they see conferences and tradeshows move daily in and out of their facilities. And influential events such as the Portland International Auto Show enjoy Meridian's CMS because they can customize the mobile experience to their brand and customers in minutes.
"Our visitors will see the benefits of the Meridian app immediately upon downloading it," says Matt Pizzuti, OCC Director of Sales & Marketing. "Not only does it put information about every event in the building right in your hand, but it can give you walking directions to the one you're here for – or even to where the nearest open cafe or concession stand is."
"The entire facility is over a million square feet," Pizzuti explains, "and Meridian provides an advanced but easy-to-use navigation tool, something we've always needed inside the building."
"The Portland International Auto Show fills the entire convention center – not a hall or room is unused. Having the Meridian app will greatly assist our attendees to see all that we have to offer, as well as locate the restrooms and healthy food options," said Greg Remensperger, Executive Vice President of the show. "It is the ease of use that sold us, both as the presenter and for the attendees. Meridian has thought of everything when they put this together".
"Meridian's goal is to help locations engage their visitors, and there are few types of businesses who see more visitors than convention centers," said Kiyo Kubo, Meridian's CEO. "Our flexible software platform helps both convention centers and the visiting shows customize their mobile experience in seconds with features like indoor navigation they can't find anywhere else."
Screenshots of the Portland International Auto Show in Meridian can be found here: http://www.meridianapps.com/places/autoshow
Links to downloading the Meridian app or signing up as a new location in the app can be found here: http://www.meridianapps.com/signup
About The Oregon Convention Center
The Oregon Convention Center is the largest convention center in the U.S. Pacific Northwest and a top meeting destination. It leads the industry in sustainable operations and business practices as the first to earn LEED-EB (Leadership in Energy and Environmental Design – Existing Building) in 2004, and in 2008, the first to be recertified LEED-EB Silver. Totaling one million square feet of space, it hosts an average of 650 events and over 700,000 visitors annually. Visit http://www.oregoncc.org for more information.
The Oregon Convention Center joins the Portland Expo Center, Portland Center for the Performing Arts and Oregon Zoo in a family of visitor venues owned and/or operated by Metro regional government. http://www.oregonmetro.gov.
About The Portland International Auto Show
The Portland International Auto Show is presented by the Metro Portland New Car Dealers Association, founded in 1914 as the advocate organization for the economic, educational and charitable activities related to the region's automobile industry. Every year, automakers bring their latest and greatest vehicles to the auto show, which represents a unique opportunity for auto enthusiasts of all ages to see in one location what's available or soon to be available in the marketplace. The show is held at the Oregon Convention Center.
About Meridian
With offices in Portland, Ore. and San Francisco, Meridian is a mobile software supplier of location-based services. Meridian's flagship product is the first mobile-app that engages visitors with turn-by-turn directions and other location-based services wherever they are in participating locations. The founders of Meridian bring to the software company 10 years of experience working with enterprises on developing location-based services for mobile devices. You can learn more about Meridian at http://www.meridianapps.com
###