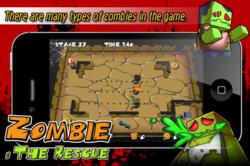 Seoul, South Korea (PRWEB) January 26, 2012
GOGN Entertainment has just launched Zombie: The Rescue, a new puzzle/action genre crossover for iPhone, iPod Touch, and iPad. Beta test feedback as well as preliminary reports of the game "in the wild" suggest that the new game has what it takes to win over the notoriously fickle iOS casual gaming crowd.
The game's winning combination of puzzle-flavored action with the video game necessity du jour—zombies, of course—wouldn't be enough by themselves to guarantee the game chart topping success. But GOGN Entertainment has done more than design a game with crowd pleasing basics; the veteran game design company has incorporated those features into a polished, addictive format complete with exceptional art direction and sophisticated pacing.
The puzzle aspect of the game involves removing hostages from zombie-infested situations. To accomplish their save removal, players must analyze the layout of their temporary prisons and formulate an escape strategy without attracting zombie notice. Of course, this isn't always possible, which is where the game's action component plays a role. Packed with special items to help players navigate the game's five environments and 60 stages, Zombie: The Rescue offers some old fashioned zombie smashing fun as well.
The game's pick-up-and-play casual gaming charm is bound to be a hit with gamers across the board, while it's crisp, bright graphics and progressively challenging levels will cement the loyalty of fans who try the game out.
Zombie: The Rescue is available now in the iTunes App Store, for $.99. With plenty of levels, a three star system to master, and GameCenter integration, that's a whole lot of play for under one dollar.
Features:
•Each of the 60 challenging stages poses a puzzle—guide hysterical hostages to safety
•5 distinct environments provides the backdrop for 12 stages each
•Multiple zombie types require you to develop new strategies
•Not all hostages are alike! Your tactics must evolve to meet the needs of each of the zombies' victims!
•Each scenario is unique—tiptoe out without bloodshed, or blast the zombies to smithereens, using your deadly item arsenal!
•GameCenter integration!
iTunes Link: http://itunes.apple.com/us/app/zombie-the-rescue/id483070791?mt=8
###