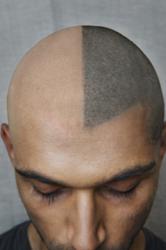 We hope to provide relief to a number of the 50 million Americans currently suffering from some form of hair loss.
Manhattan, New York (PRWEB) January 26, 2012
Following the huge demand for pioneering Micro Hair Technique (MHT) scalp pigmentation, HIS Hair has opened two new clinics in Los Angeles and New York City. HIS Hair's stylish procedure has been developed to replicate the natural appearance of 'real looking' hair and help to restore any lost confidence.
Founded in the UK by company directors, Ian Watson and Ranbir Rai-Watson, MHT scalp pigmentation effectively gives the appearance of a short, cropped, 'buzz' hair cut. Similar to the styles sported by Hollywood stars Vin Diesel and Wentworth Miller. Adee Phelan, award winning celebrity hairdresser whose clients have included David Beckham, Piers Morgan and Marco-Pierre White amongst others, is the latest to have had the MHT procedure done.
MHT is a specialist form of micro-pigmentation that is directly applied to the scalp. The MHT technique utilizes a range of specifically blended pigments, which when applied to the scalp provide a consistent replication of the size, shape and density of real hair follicles.
Since its launch in 2002, HIS Hair has treated thousands of satisfied clients worldwide and its MHT technique has gained the trust and respect of the global hair restoration community as a pioneering hair loss treatment. Ian Watson commented: "We're thrilled to have launched our new LA and New York clinics and we're looking forward to reaching and treating new clients in the US. The market for hair loss solutions continues to increase. We hope to provide relief to a number of the 50 million Americans currently suffering from some form of hair loss and expect the HIS Hair name and the MHT technique to continue to grow into 2012 and beyond."
HIS' Micro Hair Technique provides a genuine alternative to pills, concealers, hair systems and hair transplant surgery. The treatment is perfect for those suffering from all forms of hair loss, providing immediate, effective and guaranteed results.
HIS Hair already boasts four clinics in the UK, as well as clinics in France, Hong Kong, Italy, Japan, Spain, Sweden and the United Arab Emirates. Further US clinic openings are planned in Chicago, Houston, Miami, San Francisco and Seattle in 2012.
For further information on HIS Hair Clinics, visit http://www.hishairclinic.com. US clients wishing to book a free consultation should email usa [at] hishairclinic.com or call 1-855-HIS-HAIR.
# # #