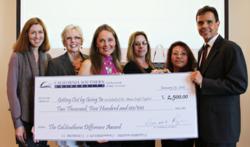 CalSouthern reconfirms what I learned as a student here: the university is founded on integrity and the highest ideals...
Irvine, CA (PRWEB) January 26, 2012
California Southern University has named Dr. Mara Leigh Taylor the recipient of the inaugural CalSouthern Difference Award, presented annually to a CalSouthern student or alumnus who makes a difference in his or her area of practice, field of study, or local community through distinguished scholarship, innovation, or service. Dr. Taylor was presented with the award at a ceremony and luncheon at the university's Irvine campus on January 25, 2012. In conjunction with the award, CalSouthern made a $2,500 donation to Getting Out by Going In (GOGI), an organization founded by Taylor to empower inmates with simple, yet effective tools for positive decision making. Since its inception, GOGI has positively impacted the lives of tens of thousands of prisoners around the world.
"I am both thrilled and honored at being selected to receive the inaugural CalSouthern Difference Award," says Dr. Taylor, known as "Coach" among the prisoners to whom she has devoted her life's work. "I accept the award on behalf of the inmates and volunteers whose courage, hard work, and dedication to make a positive, permanent change in their lives is a constant source of inspiration. I also would like to thank California Southern University. In establishing this award to recognize students and alumni who give back to their communities, and in recognizing our work at GOGI, CalSouthern reconfirms what I learned as a student here: the university is founded on integrity and the highest ideals, and is steadfastly devoted to helping its students fulfill their dreams and make a difference in their communities."
"We couldn't be more pleased with the inaugural recipient of the CalSouthern Difference Award," says California Southern University President Dr. Caroll Ryan. "Dr. Taylor perfectly embodies the ideals upon which the CalSouthern Difference Award was founded, and her innovative and tireless work at GOGI is a source of inspiration to the entire university. We are proud to be able to celebrate Dr. Taylor's achievements with the entire CalSouthern family."
Dr. Taylor founded Getting Out by Going In in 2005. GOGI is dedicated to preparing incarcerated men, women, and children for release, as well as to helping them lead more fulfilling, productive lives, by providing them with simple tools for making positive choices. The tools were developed by groups of incarcerated men and women—led by Coach Taylor—and resonate with prisoners because of their simplicity and because they are written in the inmates' language, addressing their specific needs. GOGI is staffed entirely by formerly incarcerated volunteers or community volunteers who offer a correspondence course in the GOGI tools, as well as train inmates as well as prison management and staff in facilitating GOGI self-corrective education. GOGI is a non-profit organization that relies entirely on donations. For more information, please visit http://www.gettingoutbygoingin.org.
Established in 1978, California Southern University is a premier online university offering accredited degree programs at the associate, bachelor's, master's and doctoral levels in psychology, business, and law to an international student body, utilizing a proprietary online learning system. CalSouthern is accredited by the Accrediting Commission of the Distance Education and Training Council. The Accrediting Commission is listed by the U.S. Department of Education as a nationally recognized accrediting agency and is a recognized member of the Council for Higher Education Accreditation.
###