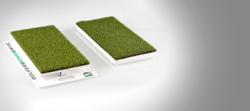 1,000 frames per second video show professional swings and pitching on four different Power Drive Performance training aids
Boston, MA (PRWEB) January 26, 2012
GOLFER'S POWER DRIVE will debut today at the 2012 PGA Merchandise Show. The training aid will be teamed up for demonstration with Professional Golfer Tom Kalinowski as lead trainer and Gerry James, PGA Professional and Long Drive Champion. Both will demonstrate how this device helps golfers control their lower body movement to ensure a mechanically correct and powerful golf swing. Along with the live training demonstration both PGA golfers will be on a large video screen taking full swings from the Golfers Power Drive in ultra slow motion at 1,000 frames per second.
We wanted to demonstrate live swings from the Golfers Power Drive in ultra slow motion using a Phantom Flex High Speed digital camera to illustrate a natural swing from the training aid, said Power Drive Performance President, John Miller. We all traveled to Indianapolis in late December to join other professional sport athletes who train on Power Drive Performance training aids, added Miller. They included professional pitcher Drew Storen, Washington Nationals closer using the Pitchers Power Drive and on the Softball Power Drive, Amanda Scarborough, two-time All American at Texas A&M, now Fastpitch professional trainer and ESPN Softball analyst. This ultra slow motion show that great athletes play sports from the ground up using ground reaction force to generate stabilization and power, said Miller. The 1,000 frames per second video show professional swings and pitching on four different Power Drive Performance training aids. All the professional athletes training on their sports specific Power Drives will be displayed on a large screen during the PGA Merchandise Show.
The GOLFER'S POWER DRIVE teaches golfers to get their lower body initiated into the golf swing with a stabilized back leg and foot. Once you have learned to stabilize the lower body on the backswing, the power drive can then be used to work on the downswing. When done properly, the GOLFER'S POWER DRIVE standing plate produces an audible "CLICK" on the lower front side plate. This auditory sound and kinetic feel provides a multisensory teaching aid that trains the golfer's muscle memory and increases their skills.
The GOLFER'S POWER DRIVE comes with a turf power drive device used on the back foot as well as a front foot platform to make sure that the golfer's feet remain on the same plane while using the device. As an optional addition, the GOLFER'S POWER DRIVE offers a hitting mat to provide a life like surface for golfer's to take their practice swings from.
The GOLFERS POWER DRIVE is a training aid that allows a natural swing with nothing attached to a golfer's body. The Professional Model is designed to help golfers achieve maximum power and velocity from using their stronger lower body muscles. The auditory click provides instant feedback to let the player know the timing of their power drive. This multisensory learning created by the auditory click and kinetic feel has provided great success with the PITCHERS POWER DRIVE for professional, collegiate and youth baseball players. It is being used in hundreds of high schools and baseball academy's, over 230 collegiate programs, 15 professional teams and many pro pitchers. For more information about Golfers Power Drive visit http://www.golferspowerdrive.com Pitchers Power Drive http://www.pitcherspowerdrive.com Hitters Power Drive http://www.hitterspowerdrive.com and Softball Power Drive http://www.softballpowerdrive.com
Pitchers Power Drive is based in Holliston, Massachusetts. They are the developer of the US patented Pitchers Power Drive Professional / Collegiate model, the Pitchers Power Drive Youth model, Softball Power Drive and Hitters Power Drive. The design of the Power Drive training aids come from their extensive experience working with and training pitchers and hitters at the Winning Pitchers Academy. Pitchers Power Drive is a trademark of Pitchers Power Drive. To learn more about Pitchers Power Drive visit the Pitchers Power Drive website at http://www.pitcherspowerdrive.com. You can also follow Pitchers Power Drive at http://www.facebook.com/pages/Pitchers-Power-Drive/127620846713 at http://twitter.com/pitching247 at http://www.youtube.com/user/pitcherspowerdrive and at http://pitcherspowerdrive.blogspot.com
###