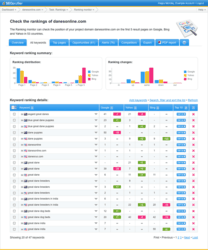 Actionable items help you to invest your time wisely.
(PRWEB) January 30, 2012
High rankings on search engines such as Google, Yahoo and Bing are crucial for businesses that want to succeed on the Internet. If a business cannot be found for the right keywords on these search engines, it basically doesn't exist on the Web.
The web service SEOprofiler now offers a new ranking monitor that enables businesses to check their positions on Google, Yahoo and Bing. The position reports are updated automatically and they also help users to improve their positions.
The new ranking monitor in SEOprofiler offers actionable items that help businesses to improve their search engine positions more efficiently.
For example, users can view so-called ranking opportunities that enable them to increase the number of website visitors. The potential traffic increase is displayed as well as an easy way to improve the rankings of the selected web page.
The ranking monitor also displays alerts if a web page has dropped in the search results. This enables businesses to quickly detect potential ranking problems.
SEOprofiler is a so-called white-hat SEO tool. That means that it only offers SEO tools that are beneficial to businesses, web searchers and search engines.
The company aims to help businesses to get more customers while improving the quality of the search results for the end user at the same time.
In addition to the new ranking monitor, SEOprofiler offers a complete suite of SEO tools that help businesses to get more paying visitors through Google and other search engines:
Competitive intelligence tools for backlinks, rankings and Google AdWords ads
Link building and link management tools
Keyword research, analysis and management tools
Web page optimization tools
Social media tools
Google AdWords ad research and optimization tools
Tutorials and communities
Further information and a free account are available at the company website.
###