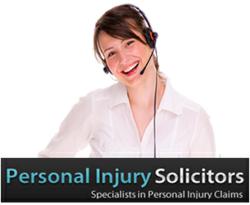 Follow these important steps for a successful compensation claim
London (PRWEB UK) 27 January 2012
Making the decision to pursue a personal injury claim is an important one. Personal Injury Solicitors London provide a ten point plan to guide claimants through the claims process. Making a claim can often be an emotive and difficult experience and one where the wrong decision can result in financial loss and cause anxiety and distress.
The 10 point compensation claims guide highlights the best practice process to follow to minimise potential problems, help make the process worry free and maximise the chances of success.
Is this a solicitor or a claims management company?
This is the first thing to determine. It's always better to deal directly with a solicitor. Claims management companies are organisations who profit from attracting potential compensation claimants and effectively selling their details to a solicitor. They may not always refer claimants to the most appropriate solicitor and their main focus can be solely to turn over leads to earn their referral fee.
Is this solicitor experienced in personal injury claims?
This is one of the most important parts of the process. Find out if this solicitor is experienced in processing injury claims in general and what experience they have of your particular type of claim. There are many solicitors who have little experience of compensation claims and there are others who only specialise in a particular type.
Does this solicitor have client references and testimonials on successful claims made?
This is about the only real measure anyone will get on how successful this solicitor is in processing claims and how good their customer service is. So ask about what testimonials they have and follow them up.
Does this solicitor work on a no win no fee basis for this type of claim?
Clarify this at any early stage. No win no fee solicitors work on the basis that their fees are only due in the event that the personal injury claim is successful. This enables the claims process to proceed without up front fees.
How long does their claims process normally take?
It's worthwhile to check if this particular solicitor has an efficient system for processing accident claims and an effective administration set up to ensure claims are progressed and actioned quickly.
How does this solicitor recover their fees?
This is an extremely important question to ask as some solicitors (and many claims management companies) process on the basis that fees are deducted from the compensation award. Experienced personal injury solicitors will recover their fees from the opposing side thus ensuring the client receives 100 percent of the compensation award.
What about disbursements?
Disbursements are outlays and costs incurred by compensation solicitors in pursuing a claim. It's important to have agreed from the outset what is classed as disbursements and how these are recovered by the solicitor.
What is this solicitors approach to negotiation?
An important point that most people don't think about in the early stages of the process but its an important one as the vast majority of accident claims never go to court and are negotiated by the solicitor on their clients behalf. The better the negotiation skills the more compensation the client receives.
What happens if the claim is unsuccessful?
This is the one most people don't appreciate before they make a claim. If a claim is unsuccessful, depending on the circumstances, the claimant may be liable for the opposing side's legal fees and so it is vital to find out in advance what the situation is with this. Insurance cover can be arranged to protect against these potential costs.
Does this solicitor provide additional support services?
The provision of additional support services such as home visits and advice on specialist health care services can often be a good indicator of the solicitor's approach to client care and the resource they have available to offer a comprehensive service.
Following the above process will go a long way to ensuring a trouble free and successful claims experience.
Personal Injury Solicitors London are specialists in personal injury compensation claims with one of the most experienced compensation claims teams in the country. We handle a wide range of compensation claims on behalf of our clients to include car accident claims, motorbike accidents, accidents at work, industrial diseases, slips trips and falls, holiday claims and more.
Personal injury claims are processed on a no win no fee basis and clients are guaranteed to receive 100 percent of their compensation award as fees are recovered from the opposing side.
Call Personal Injury Solicitors London for the best legal advice and client service for a wide range of personal injury claims.
###