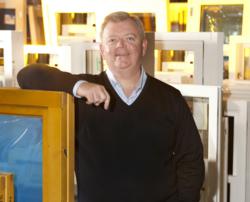 While the window and door market is down by five per cent nationally, the sales at Allan Brothers have been up 18 per cent.
(PRWEB UK) 27 January 2012
An appetite for rapid growth under new managing director Danny Hughes will see timber windows and doors manufacturer Allan Brothers focus on becoming a consumer brand across the UK during 2012.
"Our aim is to grow the business significantly by selling more to the consumer through a recommended network of installers," said Mr Hughes, who joined the company owned by the Scandinavian Inwido Group in December last year.
In outlining the new strategy Mr Hughes disclosed that the company will back it up by launching a major campaign in Yorkshire and spa towns in the south of England where the sash window style is popular.
"Home improvements make up half the UK market so that will be our focus, although we will not leave behind our traditional roots in the building and social housing market," he added.
Allan Brothers, which last year celebrated its bi-centenary, has announced a £1m investment in new machinery at its Berwick upon Tweed factory and is looking to see a 15 per cent increase in sales this year. Mr Hughes believes investment by Inwido is evidence of new-found confidence in the Allan Brothers brand.
This investment includes a new £300,000 IT system which makes it more efficient in tracking and measuring productivity on the shop floor. The company has also worked hard to provide a more seamless service to customers, achieved by offering an 'on time and full customer delivery performance' which has consistently been up at 97 per cent. In addition, its lead time of six weeks has been a key platform in enabling it to compete.
Mr Hughes said: "It has meant that while the window and door market is down by five per cent nationally, the sales at Allan Brothers have been up 18 per cent which is fantastic because it means our market share has increased in what are very difficult market conditions."
The company will also be looking to import Inwido brands, including its 'top end' Hajom product from Sweden.
"I'm looking to build upon and accelerate the growth in the UK of a company which has an impressive heritage and pedigree for top quality craftsmanship," said Mr Hughes, who has a strong sales and marketing background including a senior role with the multi-national consumer goods corporation Sara Lee Group.
He added: "I will be looking to secure higher margins by intelligent application of the Allan Brothers brand coupled with a new and ambitious consumer strategy."
###