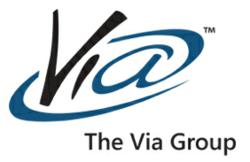 Globally recognized as a leader in unified communication solutions, The Via Group provides cutting-edge technologies that significantly enhance efficiency, productivity and security
Henrico, Virginia (PRWEB) January 27, 2012
On February 9, 2012, The Via Group will host the Unified Communication Voice Summit for State and Local Government to demonstrate how businesses can leverage powerful collaboration solutions that increase productivity and profitability. The daylong event is packed with tips on integrating new technology into an existing infrastructure. Participants will also have hands-on time with the MEC and opportunities to meet award-winning design engineers.
A U.S. Microsoft Lync Voice Education Partner of the Year in 2011, Via will share its expertise on painlessly migrating to Lync Server 2010. This next-generation unified communication server connects a company's various multimedia platforms to one brand voice. By uniting instant messaging, voice messaging, voice conferencing and collaboration, users receive a more connected experience.
The Microsoft team will kick off the meeting with a brief introduction to MEC, which enables attendees to experience all parts of unified communication, including Lync, UM and Microsoft SharePoint®. Design engineers will present demonstrations and answer questions as well.
The summit is hosted in coordination with AudioCodes, a Microsoft Gold Unified Communication Partner and manufacturer of the industry's broadest array of network elements that enable Microsoft Lync implementations.
Also participating in the summit, Polycom representatives will discuss how companies can natively extend Lync to the desktop with traditional handsets, speakerphones and video endpoints. Lync can also be integrated with Polycom videoconferencing services.
Technology executives and chief technology officers as well as IT directors, managers and professionals are encouraged to attend the Feb. 9, 2012, Unified Communication Voice Summit at the Henrico Training Center in Henrico, Va., from 9 a.m. to 4 p.m.
Register now for Microsoft Event #158940 http://www.clicktoattend.com/?id=158940
For more information about the Unified Communication Voice Summit, contact the conference coordinator, Anne Guerrier, at (281) 716-1259.
About The Via Group:
Globally recognized as a leader in unified communication solutions, The Via Group provides cutting-edge technologies that significantly enhance efficiency, productivity and security. A Microsoft Gold Unified Communications Partner for Microsoft, Via collaborates with the top technology companies in the industry, including Microsoft, Polycom, Jabra, and Dell.
Visit http://www.theviagroup.com for more information
###