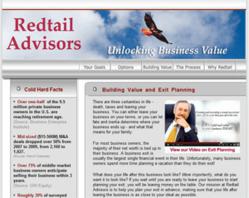 Millions of business owners are facing this situation
Temecula, CA (PRWEB) January 26, 2012
According to a study done last year by The Guardian Life Small Business Research Institute, many small business owners fear that they may be unable to retire. While most business owners enjoy the freedom and lifestyle associated with owning and running a successful company, they are ill prepared for the eventual transition out of their business, according to Jay Goth of Redtail Advisors.
There are many challenges facing a business owner who is thinking of retirement. First of all, what will they do after they leave? Many owners feel defined by their business, and will find themselves searching for a new identity and things to do. As they contemplate life after business, they may decide that they want to try something new, travel, or simply spend time with their family. How much will it cost for them to live out their retirement in the way they want?
This leads to another question. Is their company worth enough to fund their retirement? Many business owners have their entire net worth tied up in their business. Extracting this value to fund a retirement plan is critical. They need to know what the company is worth today, and under present circumstances, what it will be worth when they do decide to walk away. If those numbers aren't comfortable, then what can the business owner do to increase the value in the company?
Maybe they don't want to walk away completely, but would like to begin to disengage from the day to day process. There are options that offer compelling advantages, such as selling the company over time to their employees or management. Another question then emerges – is the management team ready for the responsibility of successfully running and growing the business?
One of the largest obstacles faced by business owners looking to either sell or reduce their role in the company is the fact that they are a key and necessary ingredient to the company recipe. No matter what route the owner takes to retirement, identifying and training successors is paramount to a worry-free retirement. In the case of a sale to a third party, the largest reason sales don't close (other than price squabbles) is the fact that the company can't run on its own.
Like many of us, most business owners wait and put off thinking about these issues until one day they are ready to sell or an outside event such as an accident or health issue forces action. This is the worst possible outcome, as the amount of time and energy needed to put the legal, accounting, HR, insurance, and operations processes and documentation in place for due diligence on the part of a buyer has to be crammed into a very short time frame. This leads to much lower valuations and a fire-sale price, virtually guaranteeing that the retirement needs are not met.
With thousands of baby boomers reaching retirement age every day, more businesses will be coming available than ever before. The astute owners who plan ahead will see a huge return on their time and energy invested in a business transition. Taking the two to five years to develop a comprehensive plan, updating and reviewing all business systems and processes, and developing a management team will do more than pay off at the end – it will build value in the company from day one.
About the author:
Jay Goth is a principal at Redtail Advisors, a business consulting and exit planning advisory that helps private companies build value and prepare for ownership transitions. The company utilizes a proprietary technology, Value Creation Insights, to provide deep insight into the business operations and processes of their clients, and works with management to produce an execution roadmap that improves business value and paves the way to a smooth transition. More information can be found at http://www.redtailadvisors.com.
###