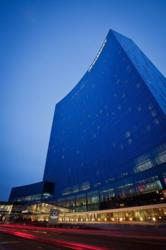 With so much to see and do, the possibilities for a dream vacation in Indy are truly endless.
INDIANAPOLIS, IN (PRWEB) January 27, 2012
JW Marriott Indianapolis is happy to announce the start of their Indianapolis Vacation Sweepstakes, giving away a daily prize of a $50 American Express Gift Card and grand prize of an Indy dream vacation. To enter, participants must register for the contest by signing up, and then login once a day every day until February 22, 2012 to get their chance to win the Indianapolis trip of their dreams. Users who spread the word will also get the chance to win a $250 American Express Gift Card. When entrants notify friends and family about the Indianapolis Vacation Sweepstakes, the participant who forwards the most referrals will be awarded a $250 American Express Gift Card.
Indianapolis is home to a grand variety of major attractions for your dream vacation. Sports fans can attend an Indy racing event, NFL, NBA, or minor league baseball game. Couples can get away for the weekend with fine dining for two and breathtaking views of the Indy skyline at JW Marriott Indianapolis. Families can enjoy multiple museums, parks, and the Indianapolis Zoo. JW Marriott is the perfect place to stay in Downtown Indianapolis, boasting a central location to all of these attractions and more. Relax in comfortable accommodations with deluxe amenities and enjoy a picturesque view of Indy from the 33rd floor.
"The Indianapolis Vacation Sweepstakes gives users the chance to win their fantasy trip," said Anne Dunlavy, Director of Sales and Marketing. "With so much to see and do, the possibilities for a dream vacation in Indy are truly endless."
For more information on JW Marriott Indianapolis,visit their website.
About the JW Marriott Indianapolis:
The JW Marriott Indianapolis is the tallest hotel in the state of Indiana at 33 stories and the largest JW Marriott in the world. This magnificent hotel, with 1,005 guest rooms, is part of Marriott Place and boasts 103,000 square feet of flexible meeting space and over 50 meeting rooms. A premier downtown venue for meetings and groups the hotel is also conveniently connected via skybridge to the newly expanded Indiana Convention Center and opens directly onto White River State Park. The JW Marriott Indianapolis is steps from over 200 shopping, dining and entertainment options and just minutes from the newly constructed Indianapolis International Airport. To cater to your every need between meetings, or after a long day of exploring the city, the JW Marriott Indianapolis features three different dining options: Osteria Pronto, High Velocity and Tavern on the Plaza. Contact JW Marriott Indianapolis at (317) 860-5800 or visit the website for more information.
###