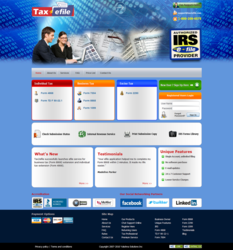 (PRWEB) January 26, 2012
Tax2efile is a leader in online IRS Authorized e-filing services. With years of professional experience in the tax industry and in-depth knowledge into the IRS e-filing system Tax2efile has always remained on the cutting edge of today's business tax services. In continuing their push toward a fully electronic filing system Tax2efile has created and developed yet another valuable tool for businesses from small companies to multinational corporations.
The Newest Form available for e-filing from Tax2efile is Form 1009-K. This Form is not just new to Tax2efile but is also a new form from the IRS. Tax2efile is proud to be among the first few companies in offering e-file services for Form 1099-K. With today's economy being vastly internet based the IRS has created form 1099-K to encompass web based transactions and funds transfers.
A payment settlement entity (PSE) must file Form 1099-K, Merchant Card and Third Party Network Payments, for payments made in settlement of reportable payment transactions for each calendar year. A PSE makes a payment in settlement of a reportable payment transaction, that is, any payment card or third party network transaction, if the PSE submits the instruction to transfer funds to the account of the participating payee to settle the reportable payment transaction.
A PSE is a domestic or foreign entity that is a merchant acquiring entity, that is, a bank or other organization that has the contractual obligation to make payment to participating payees in settlement of payment card transactions; or a third party settlement organization (TPSO), that is, the central organization that has the contractual obligation to make payments to participating payees of third party network transactions.
For More Information Visit http://www.etax1099.com
###