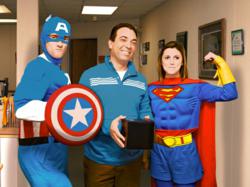 Said Michael Araten, president of K'NEX Brands, "Community is one of our core values, so K'NEX works with local organizations that provide support to our community. I am honored and humbled to have been recognized by the North Penn United Way."
Hatfield, PA (PRWEB) January 26, 2012
K'NEX Brands, the construction toy company focused on Building Worlds Kids Love™, was surprised by some "super" visitors on Thursday January 19th. United Way representatives costumed as Captain America® and Super Girl® dropped by K'NEX headquarters to present Michael Araten, President & CEO of K'NEX brands, with a special award package that contained important information about the Super Heroes Unite for Kids event.
"I was very surprised by the visit! It's not every day that Captain America & Super Girl show up at the office" said Michael Araten, president of K'NEX Brands. "Community is one of our core values, so K'NEX works with local organizations that provide support to our community. I am honored and humbled to have been recognized by the North Penn United Way."
Mr. Araten, one of 20 "Super Heroes", will be celebrated at the Pine Crest Country Club in Lansdale, PA during a "super-fun" special event to be held on the evening of April 20th. Nearly 300 community members and superheroes alike will join forces with a single goal in mind—to help all children in the North Penn and Indian Valley communities succeed in school. For more information on the Super Heroes Unite for Kids event, please log on to http://www.npuw.org/.
About K'NEX Brands
Founded in 1992, K'NEX Brands, the world's most innovative construction toy company, was established to make and sell what has become one of the world's leading integrated construction systems for children. Winner of over 200 international awards and recognitions, K'NEX is America's building toy company focused on Building Worlds Kids Love, and encourages youngsters to "imagine, build and play." For more information, please visit http://www.knex.com.
About North Penn United Way
The North Penn United Way (NPUW) is a volunteer-driven organization that works to increase the financial resources for the community's non-profit organizations. Founded in 1945 by the business community, the North Penn United Way improves people's lives by mobilizing the caring power of donors, volunteers and communities. Through collaboration, programming and a tradition of leadership, United Way focuses on producing results in the areas of education, income, and health.
The North Penn United Way is comprised of you, your neighbors, your friends, and your coworkers. The North Penn United Way is one of approximately 1,400 affiliated United Ways nationwide. Each United Way is independent, separately incorporated, and governed by local volunteers. Visit http://www.npuw.org for more information.
###