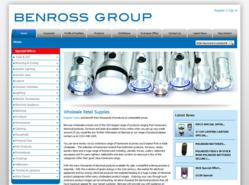 We've seen a substantial increase in sales via the website
(PRWEB UK) 28 January 2012
Today Williams Commerce ltd announced Benross Group are benefitting from increased sales thanks to their website being on page one of the Google results page. Benross are currently able to boast a top two position for 'homeware wholesalers', within Google.co.uk (worldwide results). Thanks to this great Google page one position, result traffic for this phrase has increased by 8200%.
The Benross website can also boast to have an above average conversion of 8.54% for this phrase. Amit Janir called upon the SEO Services (search engine optimisation) of Williams Commerce, Leicester based Digital Marketing and Software Development Company to build and promote his website in Google.
It's because they are coming up on top that more people are buying from Benross online, but how is it that their website is the one to come up when there are other websites that may offer the same service?
The new website combined with an effective SEO package has resulted in not just current customers making their orders online, but also enabled new customers to discover Benross and start buying from them via a simple online registration process.
The website features a variety of items to enable retailers to stock products for every consumer pallet, which means that retailers can browse through the site quickly and easily to see if there are any new products they would like to start holding in stock.
The website presents retailers with the ability to browse brand new stock that is only just being sold online. They do this through a dedicated category for 'just in' stock, and give retailers the ability to stay current with the latest product lines. This further benefits retailers because they don't have to worry about stocking older products than their competitors and can focus on more pressing aspects of their business.
Amit Janir is delighted with the result so far, "We never expected results this good so quickly. We've seen a substantial increase in sales via the website, this has to be the best marketing investment we've ever made."
Benross have recently begun stocking a range of torches, so retailers can stock a popular item during Brittan's bleak winter. Already in a short space of time Benross are on Google.co.uk (worldwide results) for 'wholesale torches'.
Retailers looking to buy wholesale online can visit the Benross website, http://www.benross.com, to browse the extensive range of products at great wholesale prices.
###