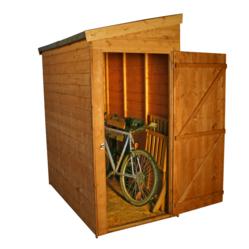 Cambridgeshire Constabulary revealed that a unit of police successfully reduced the number of thefts of bicycles by setting up a second hand bike shop
(PRWEB UK) 28 January 2012
Williams Commerce ltd announce Mercia Garden Products are set to launch new website next week. The new website is to be launched next week by Williams Commerce ltd, provider of B2B eCommerce Solutions to its trade customers, the new website enables the ability to purchase products directly online. Trade customers will benefit from a login only area that gives them access to their exclusive discounts. The new website also means that orders can be made at any time with no office hours restriction, so a busy day on site doesn't mean that housing deadlines won't be met.
Mercia Garden Products have seen a demand in bike sheds due to government new housing targets set in 2007, increasing the supply of housing to 240,000 additional homes per year by 2016. 4 years into this project, there is fresh debate over whether this target would meet the demand for new housing and deal with the backlog of unmet housing needs.
Global leader for trusted HR and related financial advice, products and service, Mercer PLC, have announced employees in the UK will experience another year of below inflation pay rises in 2012. With Premium Diesel reaching an all-time high price of £1.49 per litre, rising cost of food and a bleak outlook for pay increases, cost conscious Brits look to save money with pedal power.
An example of British commuter cost saving is the city of Cambridge, more commonly known for rowing is also well versed in cycling as a way to commute, however in 2010, 2,870 bicycles were stolen in the city alone.
Earlier in the year, the BBC reported on Cambridgeshire Constabulary's efforts to support cyclists, during 2011. It was revealed that a unit of police successfully reduced the number of thefts of bicycles by setting up a second hand bike shop that offered to buy used bikes. This operation alone enabled officers to recover 500 bikes that had been stolen in the local area, and prosecute the thieves they recovered them from. While this operation has stunted the activity of bike thieves in this area, there are still many operating throughout the country.
The government has been forced to implement measures to help keep bicycles safe, and in November 2010 the EnE8 Code for Sustainable Homes was introduced, EnE8 specifically effects new housing developments.
EnE8 code states 'Where individual or communal cycle storage is provided, it should be adequately sized, secure and convenient.' This means that 2 and 3 bedroom houses require 1 cycle store per dwelling and 4 bedroom houses and above require 2 cycle stores per dwelling.
Housing developments will also gain 2 credits as part of the code for sustainable homes, a step-change in sustainable home building practice. This is beneficial to contractors looking to increase property value and also encourage the public to use their bicycles more. This will increase the general health of the cyclists, but also cut down on the amount of cars on our roads.
###