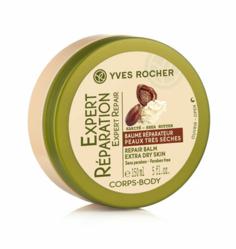 London (PRWEB UK) 27 January 2012
Yves Rocher's new range, "Expert Repair," relies on a famous ingredient that is locally produced in Mali—shea butter. The French natural beauty products company has been working closely with Malian locals to develop an organic fair trade shea butter industry with sustainable production, which protects biodiversity and allows the local population to develop through guaranteed minimum wages and vocational training.
Shea butter is a luscious ivory-coloured extract that comes from the nut of the African shea tree and is frequently used as a moisturiser right around the world. Generations of Malian women have passed down their knowledge on how to extract the precious butter from the shea nut—a process more intricate and complicated than it sounds. First the nuts must be carefully sorted, then washed, sun dried, roasted, ground and finally cooked several times before the Malians can reap the benefits of their hard work—a butter with extraordinary reparative and nutritive properties.
The new Expert Repair line from Yves Rocher encompasses three different products containing shea butter—a balm, a lotion and a concentrate. The products are designed to soothe and repair very dry skin and offer immediate comfort and relief, with some of the isolated chemical constituents of shea butter also reportedly having anti-inflammatory properties.
The Expert Repair "Repair Balm" is a rich, creamy balm formula for daily application all over the body. Designed to soothe as well as repair, Repair Balm is for very dry and damaged skin. The product retails at £15.00 for a 150ml jar and can be bought from Yves Rocher's UK Website.
For those who prefer a lotion, the Expert Repair "Repair Lotion" is also for daily use and is ideal for women seeking softer, less irritated and more radiant skin. In a satisfaction survey, 100% of women reported softer skin after using the product for one month, a testament to its effectiveness. Retailing at £9.50 for a 150ml tube, Repair Lotion also represents great value, especially considering the product is organic and fair trade.
For women requiring a more concentrated solution for isolated dryness-prone parts of the body, the Expert Repair "Intense Repair Concentrate" is made from 100% shea butter with deep healing properties. The Intense Repair Concentrate is designed to be applied as often as needed to parts of the body that are prone to extreme dryness, such as the elbows, knees, hands and feet. In a satisfaction survey, 81% of women using the product observed that very dry patches of skin appeared to be healed after a month's application. Intense Repair Concentrate retails at £17.00 for a 45ml jar and can also be bought on Yves Rocher's website.
For more information on Expert Repair and other beauty products online, please visit http://www.yves-rocher.co.uk/.
###