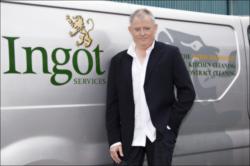 Ingot's workforce has grown from just one employee to 20 in the 13 years since Alan's arrival and the once modest annual turnover is now in the millions
Suffolk, UK (PRWEB UK) 27 January 2012
Ingot Services have been providing specialist cleaning services for commercial kitchens since 1987 and has grown from strength to strength over 25 years in business.
Thanks to Alan Maynard, Managing Director and the driving force behind the Ingot team, the company has thrived in recent years, winning new contracts throughout the UK and enjoying unprecedented growth.
Ingot's workforce has grown from just one employee to 20 in the 13 years since Alan's arrival and the once modest annual turnover is now in the millions.
Alan explains: "We provide an essential service to a range of businesses nationwide. Our reputation, service and standard of cleaning means that clients can depend on us for the ultimate deep clean particularly for air extraction units, often an unknown and hidden fire risk."
"Increased standards in Health and Safety procedures along with revised fire prevention regulations mean that business owners and managers cannot ignore the potential risks of an unclean kitchen or greasy air ducts, particularly as most insurance companies now require certified proof of cleaning to support any claims should the worst happen," continues Alan.
As well as steering a successful business Alan is always keen to support the community in terms of Ingot's employment strategy and through his involvement in local sport and youth projects.
2012 is set to be an even busier year for Ingot with more major franchise contracts in the pipeline along with new local projects that will benefit from this thriving and forward thinking company and helmsman.
"Ingot really has some exciting times ahead and all of us here are proud to be flying the flag for successful independent businesses at a time when the climate is tough for so many. We feel our example can offer inspiration and hope to others," concludes Alan.
For more information on Ingot's services call 0800 731 7892
###