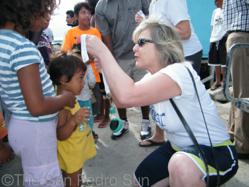 "LED has gotten better, solar panels have gotten better and the rechargeable batteries have gotten better. So in the last year it's been the perfect time to build this product and start distributing it to areas without electricity."
Grid Earth
(PRWEB) January 28, 2012
The San Pedro Sun, an online newspaper in Belize, highlighted Grid Earth's latest trip to San Mateo. Grid Earth's mission was to donate 50 solar powered LED lights to the children to help them to read or study at night. Almost all the homes in the San Mateo district have no access to electricity or dependable light. Many of the families use harmful kerosene or candles. They barely have enough kerosene or candles for light while cooking and eating let alone any to spare for the children to study. The solar powered lights can charge all day and can give the children a good 6-8 hours of light at night for reading and studying.
Grid Earth's mission is to donate solar powered LED lamps to underdeveloped villages with no reliable access to electricity whom are dependent on biomass fuels or noxious kerosene for light.
Grid Earth also strives to educate the world about solar power by offering high quality solar powered products on their website. Grid Earth also features handcrafted wares from many of the villages they visit. The sales of the solar products and wares help to fund more trips and sustain the economy of these villages.
Please read the Sun Pedro Sun story here and share with the world.
Grid Earth would like to extend a special thank you to Chris and Jo Beaumont and the entire staff of the The Palms Hotel; for their significant contribution to the project which made the San Mateo project possible.
###