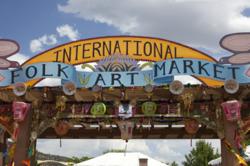 The Santa Fe International Folk Art Market, July 13-15, 2012
Santa Fe, New Mexico (PRWEB) January 26, 2012
What happens when you cross the United Nations with an open-air bazaar? You get the Santa Fe International Folk Art Market, where people from Guatemala to Algeria to Indonesia flock to Santa Fe, New Mexico laden with enough gorgeous jewelry, masterfully carved silver, world-class rugs, brilliantly-colored silk, and intricately woven baskets to make Croesus jealous.
When the ninth annual Santa Fe International Folk Art Market kicks off on July 13, more than 150 master artists will travel from every corner of the globe to sell their art and share their culture. Some arrive as celebrated cultural artists, while others have never before left their villages, let alone boarded a plane. Many of them are women whose art gives them financial independence that they otherwise never would have. For all of them, the trip to Santa Fe is nothing short of transformative.
The largest market of its kind in the world, it showcases master craftsmanship passed down through families, generations, and cultures: colorful beaded jewelry from Kenya; gorgeous silk scarves from Kyrgyzstan; exquisite ceramics from France.
Many of the artists come from developing countries, where the average income is less than $3 a day and where political, social, and environmental hardships can make everyday life—not to mention the creation of art—challenging. In the past eight years, artists at the Market have earned more than $12 million dollars. Last year, 90 percent of the Market's $2.3 million in sales went directly to the artists, providing them the financial ability to radically improve their lives and their communities.
2012 Market Schedule
FRIDAY, JULY 13, 2012 (6:30 – 9 pm)
Market Opening Party: $125 ($75 is tax-deductible)
A global gathering under the stars. Shopping, dancing, international music, food and drink!
SATURDAY, JULY 14, 2012
Early Bird Market (7:30 – 9 am): $50 (ticket includes all day Saturday)
Saturday Market (9 am – 5 pm): $15 advance, $20 at the gate
SUNDAY, JULY 15, 2012 (9 am – 5 pm)
Family Day: $5 advance, $10 at the gate
Youth 16 and under FREE admission Saturday and Sunday
WHERE: The Market is held at Milner Plaza next to the Museum of International Folk Art.
Please see the website for ticket prices and details: http://www.folkartmarket.org.
# # #