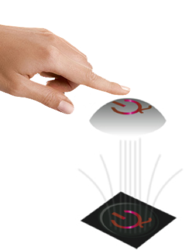 Azoteq's industry leading sensitivity and robustness open numerous applications such as intelligent user guidance even before physical contact is made in cost sensitive capacitive sensing applications
Austin, TX (PRWEB) January 27, 2012
Azoteq, the world leader in capacitive proximity sensing, announced that their latest generation of proximity and touch controllers can sense capacitive changes as small as 20 atto farads. This sensitivity allows reliable proximity detection of over 300 mm or 12 inches on practical electrodes. One atto farad (1e-18 farads) is one million times smaller than one pico farad (1e-12 farads). Typical competitive devices can detect changes of 0.1 to 1 pico farad.
Azoteq combined these breakthrough levels of sensitivity, industry-leading (~1000:1) SNR and RF immunity into cost-effective capacitive controllers. These benefits relax the common design constraints normally imposed on designers, and the automatic tuning algorithm ensures that no calibration is required in manufacturing. This allows designers to use thick overlay materials of up to 50 mm or more, unusual overlay materials such as wood, and touch buttons in extremely small spaces. With ProxSense® a touch key is easily realized with mere edge plating on a PCB. Proximity detection is natively offered on all touch key controllers, opening up possibilities for more intuitive user interfaces. This includes such as wake-up from standby, pre-emptive menu selection and automatic backlight illumination.
ProxSense® was developed and patented from the ground up using novel analog design techniques for ultra sensitive capacitive measurements. The result is a proximity and touch controller that can sense changes of 20 atto farads in projected capacitance mode and 200 atto farads in self capacitance mode. In contrast to common perception, Azoteq has proven that long range can reliably be achieved with projected capacitance. R&D in novel micro-electronic designs allows for this groundbreaking sensitivity whilst maintaining industry-leading ESD immunity and low current consumption.
"Azoteq's industry-leading sensitivity and robustness open numerous applications, such as intelligent user guidance, even before physical contact is made in cost-sensitive capacitive sensing applications" said Frederick Bruwer, CEO of Azoteq. "ProxSense® is also ideal for battery applications, since consumption is less than 10 microamperes while sensing proximity," he added.
Azoteq will be releasing a next generation family of controllers based on the ProxSense® technology during the first and second quarters of 2012.
Featuring:

2, 3, 9 and 12 channels
Self- and projected capacitance modes
Proximity and touch on each channel
Distributed proximity channel formed by multiple keys
On-chip hardware compensation for sensitivity-reducing objects
I2C interface
Automatic tuning to optimum sensitivity
Supply voltage of 1.8V to 3.6V
Multiple low-power modes
Internal voltage regulator and reference capacitor
Large proximity-detection range
Automatic drift compensation
Industrial temperature range
MSOP-10 and QFN(3x3)-16 packages
Applications:
Consumer electronics: televisions, Blu-Ray players, set-top boxes
Computers and tablets
White goods and appliances
Office equipment, toys, sanitary ware
Proximity detection that enables activation of backlighting
Wake-up from standby applications
Replacement for electromechanical switches
GUI trigger and GUI control proximity detection
About Azoteq
Azoteq (Pty) Ltd (http://www.azoteq.com) is the world leader in capacitive proximity solutions. An extensive portfolio of controllers is offered for touch keys, sliders, scroll wheels and touch screens in consumer and industrial applications. Azoteq has design and manufacturing centers in South Africa and China. Azoteq has sales offices and distributors in South Africa, Asia, Europe and the USA.
Azoteq's novel technology is protected by numerous patents, both issued and pending. A list of patents is available at http://www.azoteq.com/capacitive-proximity-touch/capacitive-touch-sensor.html
IQ Switch®, ProxSense®, LightSenseTM, AirButton®, DYCALTM and the IQ logo are trademarks of Azoteq (Pty) Ltd.
Editorial contact and interviews:
Kobus Marneweck
+1-512-538-1995
kobusm(at)azoteq(dot)com
http://www.azoteq.com
###