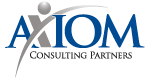 Failing to get the talent equation right can have significant implications on a company's ability to execute strategy and achieve profitable growth. Scenario planning techniques can help.

-- Dr. Aaron Sorensen, Axiom Consulting Partners
Chicago, IL (PRWEB) January 30, 2012
To help human resource executives prepare for the unknown, Dr. Aaron Sorensen of Axiom Consulting Partners will speak at webinar, "Scenario-Based Approaches to Workforce Planning: Talent Planning for a Range of Likely Futures," on Feb. 9 from 2:30-3:30 EDT. The webinar will be held by Human Resource Executive magazine and moderated by editor David Shadovitz.
To register for the event, visit the following link: http://www.bit.ly/wlV6NY.
"While the future of the global economy remains uncertain, human resource executives are still expected to ensure that their company has the right people, in the right roles, at the right time, and at the right cost," said Sorensen. "Failing to get the talent equation right can have significant implications on a company's ability to execute strategy and achieve profitable growth. Scenario planning techniques can help."
In this webinar, HR leaders will learn how to:

Gain an early read on how market conditions and changes in the labor market will impact the talent-supply chain;
Utilize scenario-planning techniques to enhance strategic workforce planning efforts;
Differentiate the workforce by segmenting talent around core capabilities.
"HR executives don't want to be caught scrambling at the last minute to fill positions or shuffle talent around," said Sorensen. "Forward-thinking organizations are looking ahead and evaluating possible business scenarios, not waiting until the last minute, to align their talent pools with emerging business demands."
Sorensen will also examine some of the successes and failures that companies have made managing talent in periods of turmoil.
The webinar is being sponsored by SuccessFactors.
About Axiom Consulting Partners
Axiom Consulting Partners works side-by-side with leaders to deliver pragmatic solutions that drive results. Our services help clients clarify strategy, focus on the highest priority sources of value and align their capabilities, processes and people to deliver sustainable, profitable growth. We always look at a client's challenges through the lenses of business strategy, organization design and talent management – it's why they choose us over firms that operate in just one of these disciplines.
Learn more at http://www.axiomcp.com.
###