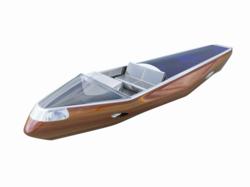 Toronto, Canada (PRWEB) January 26, 2012
Toronto based multi-disciplinary design firm rhed announces their latest collaborative project with Italian home furnishing manufacturer, Poliform, to be unveiled at this year's Toronto Interior Design Show. The rhed built by Poliform project features the Boat House Pavilion showcasing a Co-generation Power Speed Boat. The project is the latest in a series of prototypes designed by rhed, manufactured by Poliform and launched at IDS, including Monk lounge [2010]and the Pod Villa at Templar-Lake on The Mountain [ winner of IDS 2011 best of show].
"The Boat House Pavilion and Co-Generation Power Speed Boat were inspired in two parts" says founder and Templar principal, Del Terrelonge. "Firstly, while visiting Poliform in Italy last year during Salone del Mobile, I was invited to spend some time by the sea and became inspired by a spectacular one-off Italian yacht. Secondly, it is an ode to the Canadian "cottage lifestyle". The Boat House itself is a bit of a throwback to my beginnings as a graphic and packaging designer. The aluminum panels that enclose and serve as the skin or membrane, comprise the architectural structure of the boat house, which is scored and folded in the spirit of Origami."
The house at IDS this year is a case study of glass panels, upon which the solar panels will be attached to power the boat house. The Glass version of the prototype will be installed in the proposed location in Prince Edward County, as part of the Templar Lake on the Mountain project. The speed boat, on the other hand, is rhed's small version of a mega yacht with its Stealth Bomber-like sleekness, yet with a power-generation system that is completely efficient and ecological. It too has solar panels on the back with glass enclosure of the engine block, which stores power in battery cells. The more the boat is in use, the more latent power it stores, and then co-generates back to the power grid, assisting and augmenting the solar powered boat house. Along with the installation, a video presentation of both the Boat House and the Boat, will be showcased during the show at IDS.
As rhed continues to develop, design, and build larger-scoped projects (i.e. The Templar Hotel, Templar Lake on the Mountain, the condominium projects Langston I & II and others), their focus is also on developing custom furnishings and products for specific uses. The rhed built by Poliform project was manufactured in Northern Italy, while facilitating all of rhed's designs into realization.
About rhed :

A multi-disciplinary design firm founded by Del Terrelonge and based in Toronto. rhed has designed and developed such projects as the Templar Hotel, Templar Lake on The Mountain [under development], Langston I & II [under development], Citizen House, and Wellington Street Lofts. rhed built by Poliform is a range of design products manufactured by Poliform and available on the retail market.
http://www.rhed-22.com
http://www.facebook.com/pages/Rhed/274549582589181
About Poliform:
-Since 1942, Poliform has been producing and manufacturing some of the world's finest contemporary home furnishings and kitchens. One of the pioneers of the world renowned vanguards of Italian manufacturing, with showrooms and representation in over 76 countries.
http://www.poliformusa.com
###