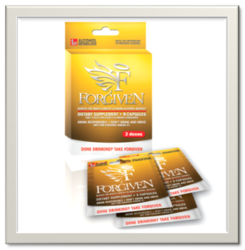 Once people try the product, they fall in love. They never drink without it again.
Las Vegas, NV (PRWEB) January 30, 2012
A new advertising campaign promoting Forgiven Alcohol Metabolizer, distributed by RH Laboratories, debuted this month online and on national television. A third component, national radio, will roll out within weeks.
This campaign is the manufacturer's first promoting their alcohol metabolizer- a dietary supplement that boosts the body's natural ability to process alcohol and prevents the miserable effects that are commonly experienced the morning after. In the initial clinical trial, subjects sobered up as much as five times faster and didn't experience nausea, headache, or dizziness afterwards.
The campaign strives to educate young adults about the product, which is unlike anything else on the market. The television spot is running on an array of networks with an emphasis on male-skewing programing. The radio segment of the campaign reflects a similar strategy.
"Now that we're in major national retailers like CVS and GNC, our goal is to familiarize people with the product," says Forgiven Bottling Group owner, Chas Aday. "Once people try the product, they fall in love. They never drink without it again, and they tell their friends."
About Forgiven Bottling Group
Chas Aday and TJ Lavin formed Forgiven Bottling Group in 2009. Their product, Forgiven, is the first and only product on the market that has been shown to increase the rate at which the body processes alcohol. In the initial clinical trial, the average increase in metabolic rate was over 500 percent. The product's proprietary blend of all-natural ingredients includes organic acids, amino acids, vitamins, and herbs that increase the body's metabolic rate while restoring the necessary amounts of essential vitamins and nutrients.
About RH Laboratories
RH Laboratories manufactures RockHard Weekend, an all-natural male sexual performance enhancer as well as Pandora, an all-natural sexual enhancer for women. RH Laboratories is constantly using innovative techniques to promote their products not only as supplements but also as a lifestyle. In addition to the products RH Labs manufactures, they are the exclusive distributor of Forgiven, the world's first alcohol metabolizer.
###