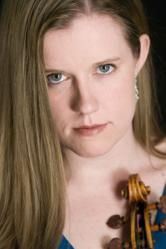 Baltimore, Md. (PRWEB) January 28, 2012
Led by BSO Music Director Marin Alsop, Baltimore Symphony Orchestra Associate Concertmaster Madeline Adkins will perform Sarasate's Fantasy on Bizet's Carmen on Thursday, February 23 at 8 p.m. and Sunday, February 26 at 3 p.m. at the Joseph Meyerhoff Symphony Hall. Along with a vivid portrayal of Bizet's fiery heroine, this program also depicts the trial and subsequent burning of Isobel Gowdie, a 17th-century Scottish woman suspected of witchcraft, in The Confession of Isobel Gowdie by James MacMillan. The concert will conclude with Prokofiev's triumphant Fifth Symphony. Please see below for complete program details.
Pablo de Sarasate's Fantasy on Bizet's Carmen is not only one of his most enduring works, but also one of the most challenging pieces in the repertoire of violin virtuosos. Employing themes from Bizet's opera Carmen, the solo violin further exemplifies Carmen's passion and untamed spirit through highly technical passages, heightening the drama of the performance. The gypsy fiddle style of the Carmen Fantasy is characteristic of Sarasate's compositions and of his Spanish roots. Since she was appointed Associate Concertmaster of the BSO by Yuri Temirkanov in 2005, Madeline Adkins has regularly been featured as a soloist with the orchestra. Ms. Adkins is also concertmaster of the Baltimore Chamber Orchestra and has appeared as concertmaster with orchestras including the Hong Kong Philharmonic, the Indianapolis Symphony Orchestra and the Oregon Symphony.
When The Confession of Isobel Gowdie was first premiered at the Proms in 1990, James MacMillan's expectations towards audience response were conservative. As he told the Sunday Times, "I had no high hopes." The response however, was overwhelmingly positive—"an ovation the like of which had rarely been seen at a British premiere since the death of Benjamin Britten" (Stephen Johnson). The premiere garnered global attention and launched MacMillan's career. Just over 20 years later, he is thought to be "one of the finest composers alive." This dark, programmatic tone poem pulls from Scottish ballad and Gregorian plainsong and includes pounding motor rhythms derived from Stravinsky. Presenting intense emotional conflict and requiring fierce commitment from performers and listeners, MacMillan accurately describes it as "the Requiem that Isobel Gowdie never had."
Drawing from themes he had jotted down in a notebook, Prokofiev composed his Fifth Symphony in a single month in the summer of 1944, as Russia emerged from its darkest hours of the war. Regarded as a particularly melodic piece, each of the four movements contains expressive themes and lyrical phrases. Describing his composition, Prokofiev said, "I wanted to sing the praises of the free and happy human being—of such a person's strength, generosity and purity of soul." Prokofiev himself conducted the work's first performance in 1945, which occurred just moments after the Red Army soldiers crossed the River Vistula and entered Nazi Germany in triumph.
Marin Alsop, conductor
Hailed as one of the world's leading conductors for her artistic vision and commitment to accessibility in classical music, Marin Alsop made history with her appointment as the 12th music director of the Baltimore Symphony Orchestra. With her inaugural concerts in September 2007, she became the first woman to head a major American orchestra. She also holds the title of conductor emeritus at the Bournemouth Symphony in the United Kingdom, where she served as the principal conductor from 2002-2008, and is music director of the Cabrillo Festival of Contemporary Music in California.
In 2005, Ms. Alsop was named a MacArthur Fellow, the first conductor ever to receive this prestigious award. In 2007, she was honored with a European Women of Achievement Award, in 2008 she was inducted as a fellow into the American Academy of Arts and Sciences and in 2009 Musical America named her "Conductor of the Year." In November 2010, she was inducted into the Classical Music Hall of Fame. In February 2011, Marin Alsop was named the music director of the Orquestra Sinfônica do estado de São Paulo (OSESP), or the São Paulo State Symphony Orchestra, effective for the 2012-13 season. Ms. Alsop was named to Guardian's Top 100 Women list in March 2011. In 2011 Marin Alsop was named an Artist in Residence at the Southbank Centre in London, England.
A regular guest conductor with the New York Philharmonic, The Philadelphia Orchestra, London Symphony Orchestra and Los Angeles Philharmonic, Ms. Alsop appears frequently as a guest conductor with the most distinguished orchestras around the world. In addition to her performance activities, she is also an active recording artist with award-winning cycles of Brahms, Barber and Dvořák.
Marin Alsop attended Yale University and received her master's degree from The Juilliard School. In 1989, her conducting career was launched when she won the Koussevitzky Conducting Prize at Tanglewood where she studied with Leonard Bernstein.
Madeline Adkins, violin
Madeline Adkins was appointed to the position of Associate Concertmaster of the Baltimore Symphony Orchestra by Maestro Yuri Temirkanov in 2005. She joined the orchestra in 2000 as Assistant Concertmaster. She appears annually as soloist with the BSO, and has performed works of Beethoven, Vaughan Williams, Bach, Mendelssohn, Mozart, Prokofiev, Vivaldi, and Bruch. Ms. Adkins is also the Concertmaster of the Baltimore Chamber Orchestra. Her tenure there has led the Baltimore Sun's Tim Smith to write, "I've never heard this orchestra's string sections sound quite so luxurious….Concertmaster Madeline Adkins has clearly been a positive influence in that chair."
Ms. Adkins has served as guest concertmaster of the Hong Kong Philharmonic, the Indianapolis Symphony Orchestra, the Oregon Symphony, and the Grant Park Symphony Orchestra in Chicago, where she was featured in Beethoven's Missa Solemnis. An active recitalist and chamber musician, Ms. Adkins performs frequently in the Baltimore/Washington area. Recent engagements include a recital as part of the Embassy Series at the Romanian Embassy in Washington DC. She has also been a guest artist at numerous summer festivals including Music in the Mountains, the Grand Teton Music Festival, and the Sewanee Summer Music Festival, as well as a clinician at the National Orchestral Institute.
A champion of early music, Ms. Adkins has been active in baroque performance on period instruments since the age of 11. She has been a member of the Handel and Haydn Society, Boston Baroque, the Dallas Bach Society, and currently Pro Musica Rara of Baltimore. With the BSO, Ms. Adkins has appeared as conductor and soloist in several baroque programs of her own design, as well as hosting concerts on the Casual Series. These appearances on the BSO's subscription series included works of Vivaldi, Handel, Bach, Biber, and Carlo Farina.
The daughter of noted musicologists, Ms. Adkins is the youngest of eight children, six of whom are professional musicians. The siblings, who include titled players in the National, Dallas, and Houston symphonies, joined together in 1994 to form the Adkins String Ensemble. Ms. Adkins has performed on viola and violin with this unique chamber ensemble for over 15 years and the group has made numerous recordings.
Ms. Adkins received her Bachelor's summa cum laude from the University of North Texas and her Master's degree from the New England Conservatory where she studied with James Buswell. While a student, she served as concertmaster of the Tanglewood Music Center Orchestra under Seiji Ozawa and won first prize in a number of competitions, including the Stulberg International String Competition, the ASTA National Solo Competition, and the New England Conservatory Concerto Competition. She was also a second prize winner in the Irving Klein International String Competition.
COMPLETE PROGRAM DETAILS
BSO Classical Concert: Carmen Fantasy
Thursday, February 23, 2012 at 8 p.m. –Joseph Meyerhoff Symphony Hall (JMSH)
Sunday, February 26, 2012 at 3 p.m. – JMSH
Marin Alsop, conductor
Madeline Adkins, violin
James MacMillan: The Confession of Isobel Gowdie
Sarasate: Fantasy on Bizet's Carmen
Prokofiev: Symphony No. 5
Tickets range from $26 to $63 and are available through the BSO Ticket Office, 410.783.8000 or BSOmusic.org.
###